3 Animals that can kill venomous snake
3 Animals that can conveniently kill the world's venomous snake
Animals in the Wild have evolved and found new ways and tactics to survive. As you already know. Surviving in the Wild is all about survival of the fittest. Some Animals have evolved to become more fearless and aggressive.
Below are 3 Animals that can conveniently kill the world's venomous snake
(1) Honey Badger
Do you know that the honey badger is one of the most aggressive animals in the wild? The name honey badger is affiliated with the animal because of its insatiable hunger for honey. A badger oftentimes will go into a swarm of bees to get a taste of honey, it would obviously get stung by thousands of bees it still wouldn't retreat…
Badgers are known to defend themselves even against Lions, hyenas, and especially venomous snakes… However, An inland Taipan or a black mamba doesn't stand a chance against the aggressive honey badger.
Badgers have thick skin and loose bodies, venoms barely penetrate their skin. 2 other creatures very similar to honey badgers are Wolverine and Tasmanian devils.
Regardless of its aggressive nature, Lions, hyenas, and Leopards can kill a badger..
(2) An Eagle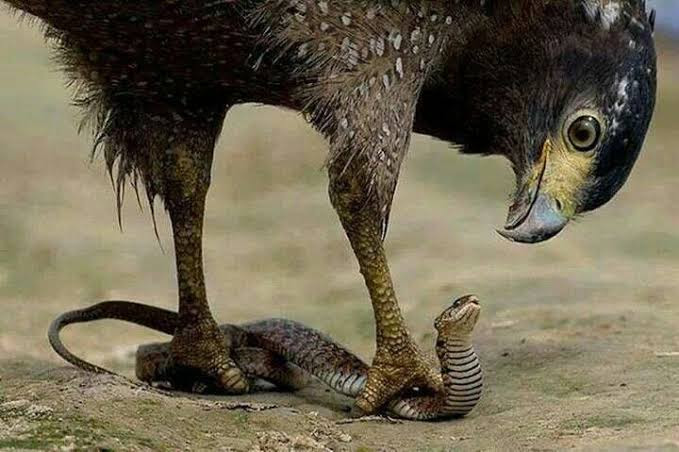 A snake doesn't stand a chance against an eagle, a venomous snake is caught unawares by the eagle's flight and speed, an eagle quickly swoops on the snake and takes it off the ground.
The snake becomes completely Immobile, powerless, and useless once it's on the flight, the eagle then uses its sharp claws and beak to bruise the head of the snake…The snake dies even before the eagle lands.
(3) Mongoose
The Grey mongoose is well known for its skills in killing venomous snakes, particularly cobras. Mongoose first captures the snake's attention, the snakes begin to attack while the mongoose runs around it, eventually, the snakes get tired, immobile, and weak, and then the mongoose quickly jumps on the snake and kills it,
mongoose is not immune to snake venom but its thick coat stops the penetration, if the mongoose is lucky it takes a few hours to fully recover from the snake venom…
This Is Why All Whales Are Afraid of Orca
Killer whales(Orcas) are known to torpedo from below at top speeds by ramming the sides of the whales with their heads.
The orcas' obsession with tongues is well documented; on several occasions, it has been the sole or nearly the only thing they eat from their massive preys.
click link above to watch video
Why Do Lions Always Kill Cheetahs?
Cheetahs get their prey easily compared to lions. Due to this competition, lions may feel that they do not have enough food due to the presence of cheetahs. The natural habitat of lions is also native to cheetahs. Since they live in close proximity, lions will attack or kill cheetahs in territorial disputes.
Click the link above to watch video
I killed the QUEEN to save the hive.
Our wild swarm hive is out of control. We have to kill the queen bee…!
In the video above – The Bee-keeeper(Man) kills the Queen bee – Bees got pissed off, Bee-keeper got stung multiple times, but luckily, he survived…!
I love how his wife is just standing there while he's screaming in pain..Lol
It's quite funny actually…!
click the link above to watch video
Here's What Happens If You Feed a Camel With a Venomous Snake
Camels are fed with live snakes. Because there is a special kind of disease in their body. Due to which his whole body becomes stiff. To avoid this disease, Utahars(camel owner) feed live snakes to camels.
Although, there is no scientific proof that eating a snake can cure an animal's disease.
Perhabs this is some type of hocus pocus probably practiced in rural places in the Middle East.!
Click the link above to watch video if you wish to learn more
TOP 6 Most dangerous Insect bites in the wolrd.
We saw him writhing around in pain on a jungle floor after stinging himself with tarantula hawk wasp, but prepare for an even bigger insect bite…!
In his YouTube video, Coyote Peterson said that the Executioner Wasp sting was, by far, "the worst sting [he's] ever taken."
Click the link above to watch video
Alligator Attacks Handler in Front of Children's Birthday Party
An animal handler who survived a gator attack is speaking out about the harrowing ordeal.
A gator bit down on 31-year-old Lindsay hands during feeding time at a reptile and animal zoo, as children at a birthday party looked on.
Bull jumped into the glass enclosure to get better leverage. Then the gator whipped the trainer underwater in what's known as a "death roll." She now reveals why she jumped in purposely, and how her gymnastics experience may have saved her.
Click the link above to watch video