BLACK MAMBA VS KING COBRA – Who Would Win?
What do you think would happen if a black mamba and a King Cobra fought?
The King cobra and Black mamba are extremely venomous snakes, they are famous for their distinctive look.
The black mamba has quite a reputation. It is one of the world's deadliest snakes and it's the fastest land snake in the world.
Many African legends surround this snake's potential threat, and it has been blamed for thousands of human deaths. The reputation of the black mamba is well-deserved.
When threatened, they are known to strike repeatedly and inject a substantial amount of venom.
As a result, they are regarded a top killer in a country where about 20,000 people die each year from snake bites.
The king cobra snakes are big and venomous and they are native to the people of India and Southeast Asia.
Like many other cobra species, they are well known and easily identified by the flattened skin on either side of their heads.
When a cobra snake feels threatened, it extends its skin and makes itself appear larger
Also, they can lift up to a third of their body off the ground and still move forward to attack.
Description
The average black mamba is 6.6 – 8.2 feet (2 – 2.5 m) long, with a maximum length of 14 feet (4.3 m). Their fangs are close to 0.25 inches (6.5 mm).
The weight of the black mamba is about 3.5 lbs (1.6 kg). Black mambas have thin and long tails
The Black mamba snake receives its name from the black coloration inside of its mouth, rather than its skin color which is a grey to olive tone.
The Black mamba snake is the fastest moving snake in the world, capable of moving up to 12.5 miles per hour (20 kilometers per hour)
This speed is utilized when escaping danger, rather than catching prey.
The king cobra's average size is 10 – 12 feet (3 – 3.6 m), but it can reach 18 feet (5.4 m), with an average weight of 13 lbs (6 kg). Top 7 most venomous snakes in the world
It is important to note that male King Cobras weigh more and tend to be longer in length than females. A third of King Cobra's body can be lifted off the ground.
In fact, if an 18-foot King Cobra were to stand upright, it could stare down on the average person.
The King Cobra, like other snakes with the name cobra, may flatten its neck, giving it the striking hood.
When threatened or attacked, the King Cobra would hiss, rear up, and compress its neck ribs into the hood.
On the hood, there are fake eyespots that may frighten some predators. Despite the fact that their scaly skin gleams, it is dry to the touch.
Adults' cobras have different colors ranging from yellow, black, green, or brown.
They are light yellow or cream in color around the neck region.
Range and Habitat
Black mamba lives in a few different regions of Africa. They can be found around central and eastern Africa.
Although they spend most of their time on the ground, they can be found in a range of environments, including forested areas.
They enjoy habitats that include a variety of hiding spots, such as rocky slopes.
Forests, woodlands, grasslands, savannas, and other habitats are among the many that they inhabit. You can find king cobras in areas of India and Southeast Asia.
These reptiles can live in a variety of environments, but they are threatened by deforestation.
Also can be found in dense highland forests, and mangrove forests as well.
Because prey species are more abundant in locations with water sources, they reside there and fend for food.
Diet
Black mambas typically eat small mammals and birds, but there have been reports of mambas found with whole parrots or full-grown cobras in their stomachs.
Black mambas kill prey by biting and injecting poison into their target, then releasing it. They then pursue it until it becomes paralyzed or dies, after which they consume it.
After being bitten by a black mamba, prey usually dies in a short amount of time. The black mamba eats its prey whole.
Their jaws are flexible and can dislocate to allow them to eat food that is up to four times the size of their head.
King cobras are ophiophagous, which means that they eat other species of snakes, including other venomous snakes. 10 Animals that will kill venomous snakes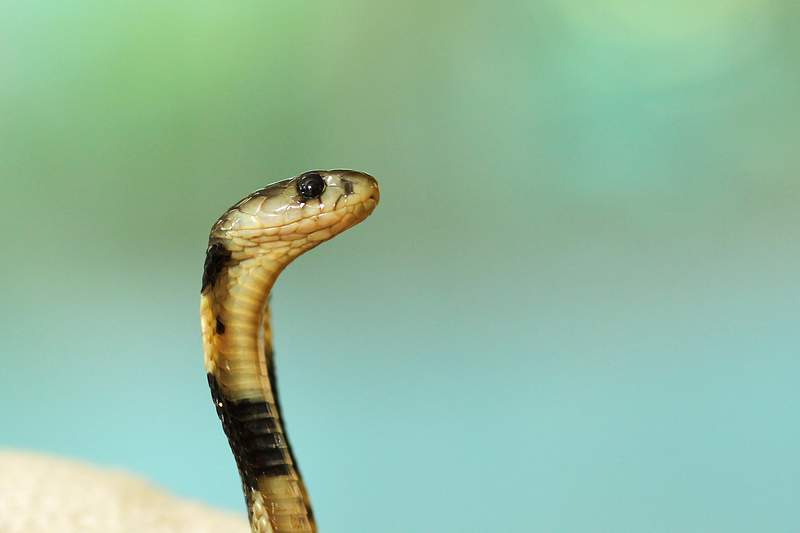 Some of their most common prey include pythons, other cobras, kraits, and pit vipers.
They will feed on rodents, small mammals, reptiles, birds, etc when there's a shortage of food.
They have an acute sense of smell which they use to trail their prey.
A good-sized meal can sustain a snake for months at a time, as they have incredibly slow metabolic rates.
The venom of the king cobra is so potent that elephants have died within three hours of being bitten on the toe or trunk.
Behavior
The black mamba snakes are solitary creatures, diurnal, and loves to bask under the sun.
They are active and fast, able to move swiftly, they can also be sensitive and unpredictable.
They rarely accept humans going closer than 40 meters in the wild (130 ft). Mambas flee into the brush or a hole when they sense a threat.
When confronted, they will most likely make a threat demonstration by opening their black mouth and twirling their tongue. How to Survive Being Swallowed by an Anaconda
King cobras are reptiles who only congregate to breed. They're active both day and night.
The forked tongue of king cobras, like those of other snakes, receives chemical information. Moving prey can be detected by king cobras from a distance of about 100 meters (330 feet).
King cobras can be aggressive when threatened, they would rather run into hiding than face confrontation. However, if they are repeatedly provoked, they can become extremely hostile.
When alarmed, they rear up the anterior portion of their body when extending the neck, showing the fangs and hissing loudly.
Now let's see who would win a fight between these two venomous snakes? Black Mamba or King Cobra?
The black mamba is a very popular snake in Africa indeed but never meets King Cobra which is predominantly present in the Indian Subcontinent and Southeast Asia.
So if a black mamba meets a king cobra, the black mamba would try to slither and escape whereas the cobra, being a snake predator, would be aggressive to have its food.
Both the snakes would raise its body significantly above the ground.
However, A cobra that stands up tall and looks you in the face with its robust and flattened hood would be more terrifying.
Black Mambas are dangerous because of their aggressive nature and they will chase you.
Black mambas are obvious and so they would most likely chase you or flee into hiding.
King Cobras are dangerous because they are confident and calculative, not easy to predict, they can flare up at any time and strike.
They are so unpredictable and this makes them way more dangerous. They can sneak up on their target and strike when you least expect.
The Black Mambas may be more toxic drop to drop than the king cobra but the King Cobras produce massive amounts of venom!
Black Mambas produce approximately around 55 mg of Venom while King Cobras produce 420 mg of Venom per bite which is huge. How to Survive the Most Vicious Animal Bites
The intelligence of King cobra has proven to be the most intelligent snake. It could be seen from how they approach, attack, and ultimately devour the other snakes,
no matter if the others are ten times more venomous than themselves.
This definitely says something about their brain capabilities.
In conclusion: It's obvious that there is just one King! The King Cobra!
This Is Why All Whales Are Afraid of Orca
Killer whales(Orcas) are known to torpedo from below at top speeds by ramming the sides of the whales with their heads.
The orcas' obsession with tongues is well documented; on several occasions, it has been the sole or nearly the only thing they eat from their massive preys.
click link above to watch video
Why Do Lions Always Kill Cheetahs?
Cheetahs get their prey easily compared to lions. Due to this competition, lions may feel that they do not have enough food due to the presence of cheetahs. The natural habitat of lions is also native to cheetahs. Since they live in close proximity, lions will attack or kill cheetahs in territorial disputes.
Click the link above to watch video
I killed the QUEEN to save the hive.
Our wild swarm hive is out of control. We have to kill the queen bee…!
In the video above – The Bee-keeeper(Man) kills the Queen bee – Bees got pissed off, Bee-keeper got stung multiple times, but luckily, he survived…!
I love how his wife is just standing there while he's screaming in pain..Lol
It's quite funny actually…!
click the link above to watch video
Here's What Happens If You Feed a Camel With a Venomous Snake
Camels are fed with live snakes. Because there is a special kind of disease in their body. Due to which his whole body becomes stiff. To avoid this disease, Utahars(camel owner) feed live snakes to camels.
Although, there is no scientific proof that eating a snake can cure an animal's disease.
Perhabs this is some type of hocus pocus probably practiced in rural places in the Middle East.!
Click the link above to watch video if you wish to learn more
TOP 6 Most dangerous Insect bites in the wolrd.
We saw him writhing around in pain on a jungle floor after stinging himself with tarantula hawk wasp, but prepare for an even bigger insect bite…!
In his YouTube video, Coyote Peterson said that the Executioner Wasp sting was, by far, "the worst sting [he's] ever taken."
Click the link above to watch video
Alligator Attacks Handler in Front of Children's Birthday Party
An animal handler who survived a gator attack is speaking out about the harrowing ordeal.
A gator bit down on 31-year-old Lindsay hands during feeding time at a reptile and animal zoo, as children at a birthday party looked on.
Bull jumped into the glass enclosure to get better leverage. Then the gator whipped the trainer underwater in what's known as a "death roll." She now reveals why she jumped in purposely, and how her gymnastics experience may have saved her.
Click the link above to watch video