Brave Security Guard Pushed Hippo back into Water – to Save Zoo Visitors
Hippopotamus facts
A hippopotamus is considered the most dangerous, aggressive, and territorial animal on earth and this is due to the fact that it's responsible for over 500 human deaths in Africa alone.
A hippopotamus has powerful jaws and large canine teeth able to crush watermelons like berries. Japanese Zookeeper Brushes Hippopotamus teeth
The teeth and jaws of a hippopotamus are said to crush boats and animal heads.
The skin of a hippopotamus is said to be thick, tough, and impervious. It is said that the skin of a hippopotamus can deter bullets and toxins of venomous animals.
Lions and hyenas find it difficult to kill a hippo or eat through its skin.
Crocodiles sometimes share territory with hippopotamuses. Crocodiles are scared of hippos, they wouldn't dare attack a hippo either big or small. 6 animals that can defeat a hippo
A crocodile is well aware of the ferocious nature and aggressiveness of the hippopotamus.
An elephant is the only land animal capable of defeating a hippopotamus one on one. There are records of lion prides killing a hippopotamus, but only in rare cases.
It is said that a very big and large Nile or saltwater crocodile can kill a hippopotamus.
A crocodile of such size is considered Man-eater. i.e a crocodile can reach a certain weight and size that it will start killing big animals including humans.
A video surfaced online of a brave security guard who pushed a hippo back into the water with his bare hands to save visitors from harm.
Videos have surfaced online of hippopotamus in zoos. Throughout the year, men have successfully tamed hippopotamuses and kept them in their backyards, some humans have even kept hippos as pets in their homes. Honey Badger or Hippopotamus – Which is more Aggressive
The male hippopotamus is said to be the most aggressive and extremely territorial.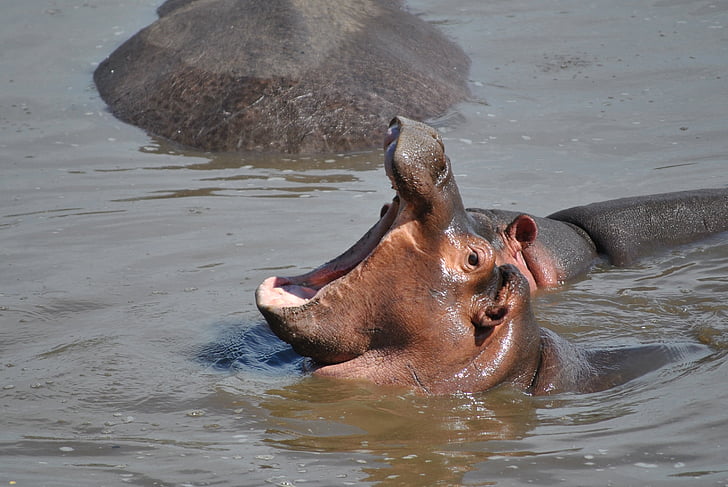 Scientists have not been able to take the bite force reading of a male hippotamus due to their aggressive temperament.
The bite force of a hippopotamus is said to be at 1,800 PSI and that is a bite force stronger than the hyena at 1,100 psi and Jaguar at 1500psi.
The simple definition of bite force is "The pressure exerted on the teeth during biting".
Hippopotamus are mostly Omnivorous animals and they mostly eat plant-based diets but can also eat meat and flesh.
They spend most of their time cooling off and submerged in water.