For Immediate Release:
October 23, 2023
Contact:
David Perle 202-483-7382
Sacramento, Calif. – The California Horse Racing Board (CHRB) has just passed a first-in-the-nation regulation that prohibits horse racing licensees—including owners, trainers, and jockeys—from participating in or attending illegal, or "bush track," races. The regulation—which goes into effect January 1—was proposed following a presentation last December from PETA Senior Vice President Kathy Guillermo, who shared findings from PETA's undercover investigation into illegal bush tracks. The investigation documented rampant doping, the use of prohibited electric shock devices, fatal horse breakdowns, jockey injuries and deaths, and hundreds of thousands of dollars in illegal gambling.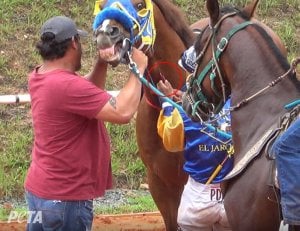 A jockey at an unregulated bush track injects a horse just before a race. Photo: PETA
Specifically, the board amended Rule 1902, "Conduct Detrimental to Horse Racing" to prohibit licensees from "participation in, or presence at, any non-recognized race meeting where racing occurred." There are eight unsanctioned Quarter Horse tracks in California.
"These illegal tracks are a cesspool of drugs, death, and abuse, and they have no place in California or anywhere else," says Guillermo. "PETA applauds the CHRB for taking this important step to protect horses and urges other states to follow its lead and pass similar regulations."
PETA's 10-month investigation into two Georgia bush tracks found trainers and jockeys injecting horses with cocaine, methamphetamine, methylphenidate (Ritalin), and caffeine; jockeys whipping horses relentlessly; and no veterinarians standing by despite numerous gruesome injuries to horses. Similar unsanctioned racetracks are known to operate in at least 30 other states, including California.
PETA—whose motto reads, in part, that "animals are not ours to use for entertainment or abuse in any other way"—opposes speciesism, a human-supremacist worldview. For more information, please visit PETA.org, listen to The PETA Podcast, or follow the group on X (formerly Twitter), Facebook, or Instagram.