For Immediate Release:
October 12, 2023
Contact:
David Perle 202-483-7382
New Castle, Pa. – PETA has discovered that local roadside zoo Living Treasures Animal Park sold a kangaroo and an albino wallaby in September at the Mt. Hope Auction's Mid Ohio Alternative Animal and Bird Sale, where a just-released PETA exposé documented that exhibitors sold animals suffering from severe and obvious injuries and illnesses and uncovered numerous apparent violations of the federal Animal Welfare Act (AWA).
At the notorious auction, PETA's eyewitnesses observed the wallaby in a small plastic transport carrier in which the water container appeared to be tipped over, animals with broken legs and open wounds, and animals who were emaciated, pacing frantically, and biting their cages. Multiple animals were confined without water and were kept in crowded pens and cages, some so small that they couldn't stand upright or turn around. In response, PETA submitted a formal complaint to the U.S. Department of Agriculture (USDA) demanding an investigation into the auction, which has been cited for violations of the AWA 36 times—including 19 repeat citations—since September 2022.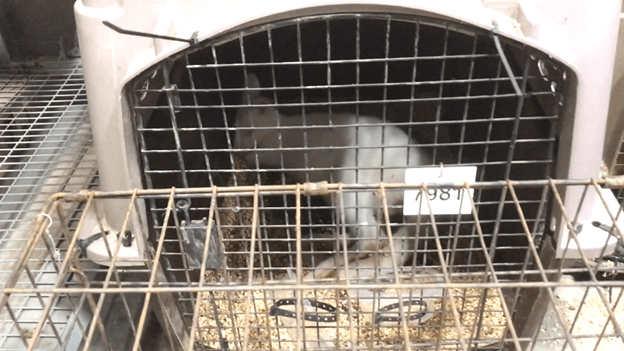 This albino wallaby was sold by Living Treasures at the auction. Photo: PETA
"This auction is a nightmare for the thousands of animals who are sold like pieces of old furniture to people who likely don't have the resources, knowledge, or desire to care for them properly," says PETA Foundation Director of Captive Animal Welfare Debbie Metzler. "PETA urges families never to buy a ticket to Living Treasures or any other cruel roadside zoo that puts animals on display and auctions them off like trinkets."
PETA notes that during the auction, kangaroos and wallabies were constantly wrangled by people who pulled them around by their tails or held them up by their tails and were relegated to tiny barren pens when they weren't on the auction floor. In March, the auction was issued a repeat citation for housing a kangaroo and a wallaby in plastic enclosures that were "not large enough for the animals to stand in a normal upright position."
PETA—whose motto reads, in part, that "animals are not ours to abuse in any way"—opposes speciesism, a human-supremacist worldview. For more information on PETA's investigative newsgathering and reporting, please visit PETA.org, listen to The PETA Podcast, or follow the group on X (formerly Twitter), Facebook, or Instagram.