For Immediate Release:
November 7, 2023
Contact:
Brittney Williams 202-483-7382
Jersey City, N.J. – Shoppers attending Thursday's grand opening of the first Whole Foods store in Jersey City will be confronted by an 8-foot crying "monkey" chained to a massive coconut as PETA pushes the grocery giant to stop selling coconut milk from Thailand, where the coconut industry is involved in a scandal over the forced labor of endangered pig-tailed macaque monkeys.
When:    Thursday, November 9, 8 a.m.
Where:    Near Whole Foods, 135 Greene St. (at the intersection of Christopher Columbus Drive and Washington Street), Jersey City
Monkeys used in Thailand's coconut-picking industry are illegally snatched from their forest homes as babies, fitted with rigid metal collars, chained, whipped, and forced to climb trees to pick coconuts. Their canine teeth are often removed so as to leave them defenseless. Because the industry and the Thai government lie about their systemic reliance on forced monkey labor, it's impossible to guarantee that any coconut milk from Thailand is free of it. Several companies that produce coconut milk brands sold at Whole Foods were named by industry workers in PETA Asia's latest investigation as having used coconuts obtained by monkey labor.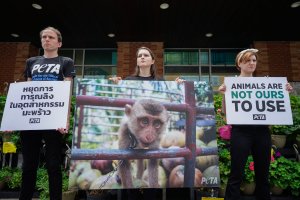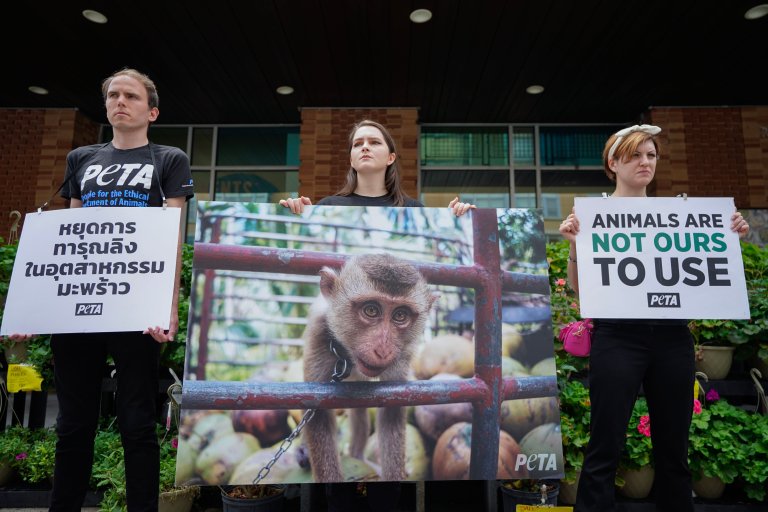 PETA supporters protest outside a Whole Foods store. Photo: PETA
"Whole Foods' refusal to stop selling brands tied to the kidnapping and abuse of endangered monkeys is particularly shameful coming from a company that claims to care about animal welfare," says PETA Executive Vice President Tracy Reiman. "PETA is urging Whole Foods to stop supporting this abuse."
Next week, three bus shelters near the new store will feature PETA displays showing a distressed monkey in a metal collar with the message "HellWhole: Whole Foods Sells Coconut Milk Made From Monkey Labor." The messages will appear on shelters on Montgomery Street near Washington Street and on Christopher Columbus Drive near both ends of the Grove Street PATH station.
PETA—whose motto reads, in part, that "animals are not ours to abuse in any way"—opposes speciesism, a human-supremacist worldview.
For more information, please visit PETA.org, listen to The PETA Podcast, or follow the group on X (formerly Twitter), Facebook, or Instagram.