For Immediate Release:
November 21, 2023
Contact:
Nicole Perreira 202-483-7382
Colorado Springs, Colo. – Ahead of the busiest shopping day of the year, PETA is challenging consumers to leave cashmere sweaters on the shelves and decline dairy cheese in two new TV spots that reveal these products' true cost for goats and cows. The back-to-back messages will air this week via Comcast in the Colorado Springs metropolitan area.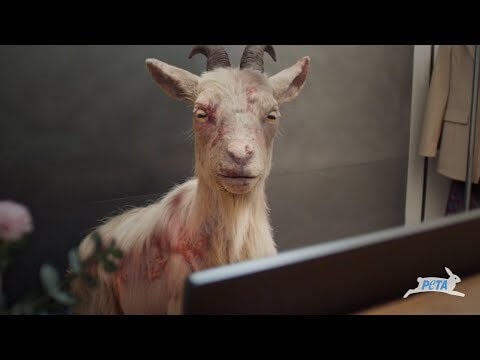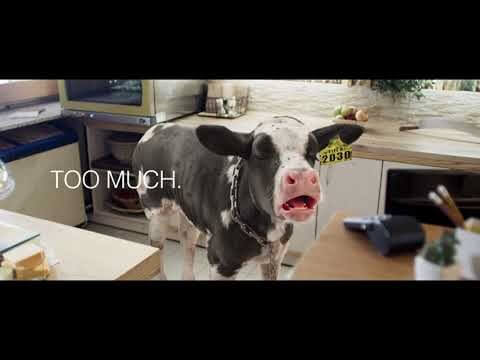 In the spots, which are part of a controversial new ad series from PETA titled "Too Much," a computer-generated goat points out that cashmere costs "too much" for the goats who scream in pain as workers rip out their hair in the cruel cashmere industry and a computer-generated calf chained up behind a shop's cash register reveals that a wedge of cheese costs "too much," as revealed in a PETA investigation into Daisy Farms.
"Viewers who are disturbed by these simulated images would be horrified to see how real goats, mother cows, and calves are tormented and killed in the cashmere and dairy industries," says PETA Senior Vice President Lisa Lange. "PETA urges everyone to extend peace on Earth to all animals by buying only vegan sweaters and delighting holiday guests with delicious vegan cheeses."
A new PETA Asia investigation into cashmere operations in Mongolia revealed that terrified goats were tied down by their legs and horns while workers ripped out their hair so violently that they sometimes pulled away pieces of skin, leaving some of the animals to suffer with bleeding wounds. A worker used an unsterilized knife to cut open kid goats' scrotums and pulled out their testicles without pain relief. Goats who were deemed no longer profitable were killed.
And in the dairy industry, calves are torn away from their mothers, often within a day of birth, so that the milk meant to nourish them can be stolen and sold to humans. PETA's investigations into dairy facilities have found workers electroshocking cows in the face, hitting them with poles and a cane, and abusing them in other ways. Once their bodies wear out from repeated pregnancies, they're sent to slaughter.
PETA's goat and calf ads will air via Comcast on all Colorado Springs–area networks through November 26, running nearly 2,000 times on local airwaves.
PETA's motto reads, "Animals are not ours to experiment on, eat, wear, use for entertainment, or abuse in any other way." For more information, please visit PETA.org, listen to The PETA Podcast, or follow the group on X (formerly Twitter), Facebook, or Instagram.