Mike Tyson fights a gorilla to the Death
Mike Tyson fights a gorilla to the Death
This is what would happen if Mike Tyson fights a gorilla to the Death
When Mike Tyson and his ex wife Robin Givens visited a zoo Mike did actually offer the zookeeper $10,000 to fight the dominant alpha gorilla. Thankfully that offer was declined.
I have no doubt it's true, he did actually wrestle with his huge ass tigers so he'd probably be brave enough to get it on with a gorilla as well. I'm afraid he'd be limbless in less than a minute with the gorilla tho.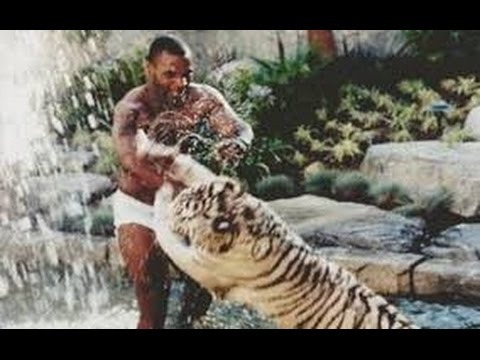 This is what would happen if Mike Tyson fights a gorilla to the Death? If the gorilla noticed him he might get pissed off and rip Mike's head off. Gorillas weigh in at 500lbs. It would be as much a match as a baby hitting Dwane Johnson. If Mike Tyson hit a 125 lb chimp the chimp would get pissed off and probably break his arms. These animals are much much more powerful pound for pound than humans. They're tougher too and can take a punch. Mike Tyson fights a gorilla to the Death
THE BATTLE
As far as wrestling a tiger I'm sure the tiger was trained to wrestle humans otherwise Mike would be a snack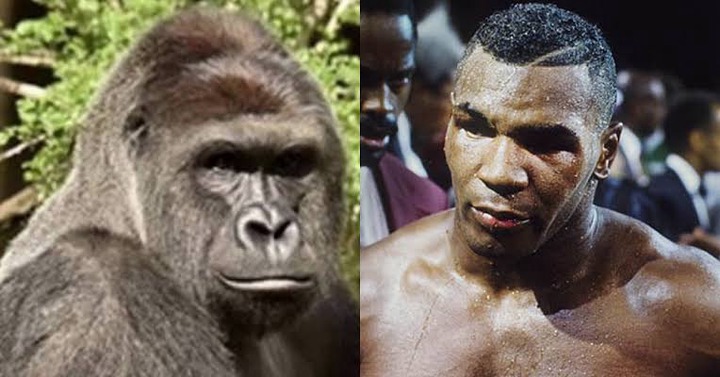 It would go a bit like this, Mike hits gorilla who looks at him like WTF for a split second before ripping him to bits in under 20 seconds. A male gorilla is 4 to 9 times stronger than the average male human,
Mike Tyson in his prime wasn't an average male but the alpha gorilla would still be 3 or 4 times stronger. Mike Tyson fights a gorilla to the Death
With the ability to lift up to about 800lbs a fully grown male gorilla would toss Mike Tyson around like a rag doll.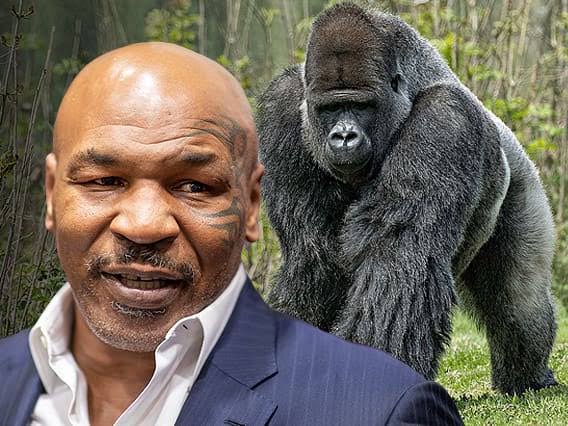 gorillas have a much great ape index so while they may be shorter than humans their arms are longer. they have tough thick skin and being closer to the ground a lower center of gravity, and balance, despite their size they are deceptively agile and don't forget they have a big mouth with strong jaws and sharp teeth.
So if Mike Tyson or anyone took a swipe at a gorilla it would probably be the last thing they did.
you tell me, could he have taken on a beast that can lift 1,800 pounds and weighs 350 pounds. Mike Tyson fights a gorilla to the Death
When you get done reading that watch this video, and this is in a zoo setting not in the wild where it would be a lot more intense, tell me if Tyson could have fended off this attack, when watch this just imagine if one of the gorillas was Tyson, and Tyson could never move like either of those gorillas.
Plus those gorillas have an extremely strong but short neck combined with the most robust jaw muscles in the world surpassing a Grizzly, along with a very large and thick chin bone making an uppercut useless; plus their arm reach is about 50% longer than a human.
Do you really think an uppercut to a chin like that by Tyson would phase the gorilla? Impossible
Gorillas are stupidly strong they can bench an estimated 1800–4500 lbs depending on age, nutrition, gender, etc. Think about that, the world record bench press is 770 lbs by Julius Maddox, that's 2,5–5,8 times of us puny humans' best attempt
Do you really think Tyson whose weighing around 250 lbs at his zenith can fight a 400 lbs pissed off silverback? I don't think so, and the zoo keeper know this as well.
This Is Why All Whales Are Afraid of Orca
Killer whales(Orcas) are known to torpedo from below at top speeds by ramming the sides of the whales with their heads.
The orcas' obsession with tongues is well documented; on several occasions, it has been the sole or nearly the only thing they eat from their massive preys.
click link above to watch video
Why Do Lions Always Kill Cheetahs?
Cheetahs get their prey easily compared to lions. Due to this competition, lions may feel that they do not have enough food due to the presence of cheetahs. The natural habitat of lions is also native to cheetahs. Since they live in close proximity, lions will attack or kill cheetahs in territorial disputes.
Click the link above to watch video
I killed the QUEEN to save the hive.
Our wild swarm hive is out of control. We have to kill the queen bee…!
In the video above – The Bee-keeeper(Man) kills the Queen bee – Bees got pissed off, Bee-keeper got stung multiple times, but luckily, he survived…!
I love how his wife is just standing there while he's screaming in pain..Lol
It's quite funny actually…!
click the link above to watch video
Here's What Happens If You Feed a Camel With a Venomous Snake
Camels are fed with live snakes. Because there is a special kind of disease in their body. Due to which his whole body becomes stiff. To avoid this disease, Utahars(camel owner) feed live snakes to camels.
Although, there is no scientific proof that eating a snake can cure an animal's disease.
Perhabs this is some type of hocus pocus probably practiced in rural places in the Middle East.!
Click the link above to watch video if you wish to learn more
TOP 6 Most dangerous Insect bites in the wolrd.
We saw him writhing around in pain on a jungle floor after stinging himself with tarantula hawk wasp, but prepare for an even bigger insect bite…!
In his YouTube video, Coyote Peterson said that the Executioner Wasp sting was, by far, "the worst sting [he's] ever taken."
Click the link above to watch video
Alligator Attacks Handler in Front of Children's Birthday Party
An animal handler who survived a gator attack is speaking out about the harrowing ordeal.
A gator bit down on 31-year-old Lindsay hands during feeding time at a reptile and animal zoo, as children at a birthday party looked on.
Bull jumped into the glass enclosure to get better leverage. Then the gator whipped the trainer underwater in what's known as a "death roll." She now reveals why she jumped in purposely, and how her gymnastics experience may have saved her.
Click the link above to watch video