For Immediate Release:
October 19, 2023
Contact:
Tasgola Bruner 202-483-7382
Princeton, N.J. – PETA is calling for an investigation by the National Institutes of Health (NIH) and the Princeton Police Department after Princeton University experimenters left a screw inside a monkey's head for eight months following a surgery, causing his death.
A Princeton insider alleged that monkeys in the school's laboratories were mistreated, and PETA corroborated the whistleblower's allegations with documents from the U.S. Department of Agriculture (USDA).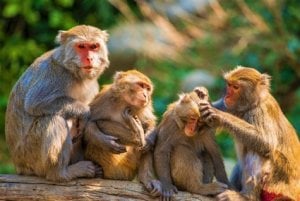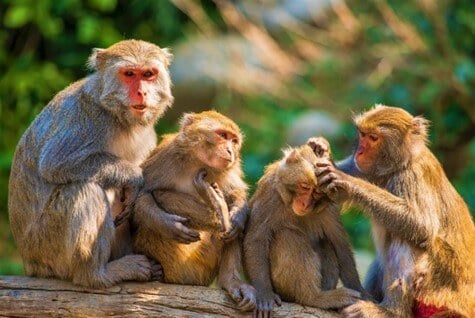 Rhesus macaques in their natural environment
According to the USDA, the monkey pulled out a metal plate that had been implanted in his skull. Experimenters attempted to correct this surgically but left a nickel-sized ceramic screw in his head. The monkey then developed a brain abscess, likely causing pain, fever, vomiting, seizures, and other debilitating symptoms. Experimenters gave the animal antibiotics, which failed to clear the infection. Eight months later, experimenters performed exploratory surgery and found the screw. The monkey died from complications following that surgery, according to the USDA reports.
"This monkey suffered in agony for eight months because Princeton experimenters left a screw in his skull and then couldn't be bothered to follow bare-minimum care guidelines," says PETA Vice President Dr. Alka Chandna. "PETA is calling on NIH and the Princeton police to investigate and hold these experimenters responsible."
The incident bears a striking resemblance to Elon Musk's botched brain implant experiments at the University of California–Davis, in which monkeys suffered for months after an implant broke off during placement in one monkey while another monkey bled, oozed discharge, and became infected. The screws of one implant became so loose that they slid out.
PETA—whose motto reads, in part, that "animals are not ours to experiment on"—opposes speciesism, a human-supremacist worldview. For more information on PETA's investigative newsgathering and reporting, please visit PETA.org, listen to The PETA Podcast, or follow the group on X (formerly Twitter), Facebook, or Instagram.