Here's the reason why male Lions gang up against a single lion
The reason why Lions gang up against a single lion
Do lions gang up against a single lion in the wild? Why?
Yes, they do.
The Life of Male Lions in the wild
When male lion cubs reach full maturity at around two to three years of age, they become outsiders from their maternal pride and are left to embrace the life of nomads, during which they prowl the savanna-like hyenas, in search of a new pride and territory to rule over.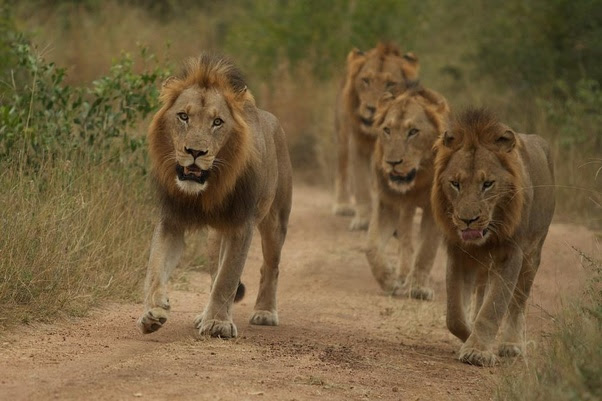 In the process, the lions – usually brothers, half-brothers, or cousins – form groups called coalitions.
The size of these coalitions usually varies between two and seven individuals, probably more. But whatever the number, these lions form altogether the most powerful force in the land, ready to launch a deadly assault in order to assume the throne.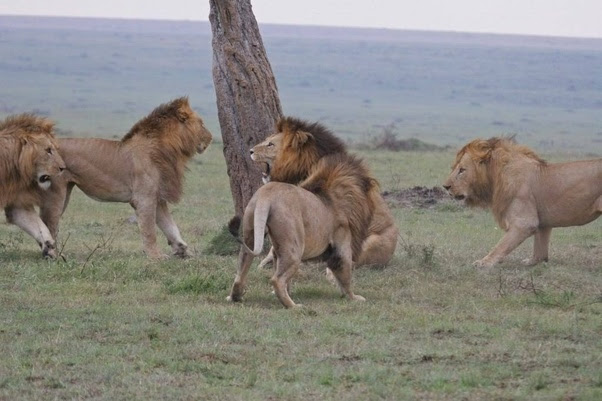 Sure enough, these coalitions work altogether to gang up against the resident male lions and eventually overthrow them.
And the most common case scenarios unfold when the coalitions confront only one resident male – indeed because he is now of great age (meaning he has grown too old).
The resident lion is no longer as strong nor fearsome as he once was, and is now obliged to become vulnerable, for there's little he can do against the younger, stronger, and much more numerous nomadic males. It's truly the strength in numbers.
A vicious fight between male lions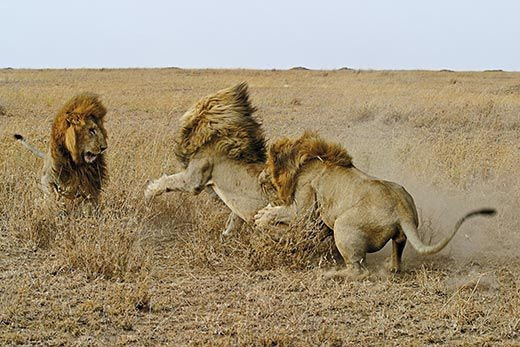 A vicious fight during which the resident male affords to lose not just his power and pride, but his life as well.
And so, the sole hope he has for survival lies in running away, leaving his former pride at the hands of the new males, without ever coming back – if he is to ever return again, he'll be shown no mercy.
lions gang up against a single Lion
Moreover, the fact that lions gang up against a single lion occurs not only with coalitions of nomadic males but also occurs when the lionesses are protecting their cubs.
Let's not forget, that if a male lion takes over a pride, the first thing he does is to kill all unrelated cubs he finds, so as to ensure that his bloodline survives, not that of another; thus, the lionesses, with their strong maternal instinct, will fearlessly attack the rivals and fend them off.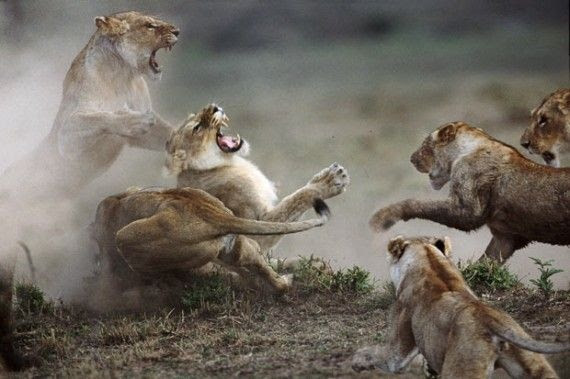 Last but not least, as we know, lions are territorial, and highly protective of their pride and domains. As such, they don't take kindly to outsiders, whether they're males or females; altogether, they can gang up on any unrelated lion they meet, and fight that lion viciously.
This Is Why All Whales Are Afraid of Orca
Killer whales(Orcas) are known to torpedo from below at top speeds by ramming the sides of the whales with their heads.
The orcas' obsession with tongues is well documented; on several occasions, it has been the sole or nearly the only thing they eat from their massive preys.
click link above to watch video
Why Do Lions Always Kill Cheetahs?
Cheetahs get their prey easily compared to lions. Due to this competition, lions may feel that they do not have enough food due to the presence of cheetahs. The natural habitat of lions is also native to cheetahs. Since they live in close proximity, lions will attack or kill cheetahs in territorial disputes.
Click the link above to watch video
I killed the QUEEN to save the hive.
Our wild swarm hive is out of control. We have to kill the queen bee…!
In the video above – The Bee-keeeper(Man) kills the Queen bee – Bees got pissed off, Bee-keeper got stung multiple times, but luckily, he survived…!
I love how his wife is just standing there while he's screaming in pain..Lol
It's quite funny actually…!
click the link above to watch video
Here's What Happens If You Feed a Camel With a Venomous Snake
Camels are fed with live snakes. Because there is a special kind of disease in their body. Due to which his whole body becomes stiff. To avoid this disease, Utahars(camel owner) feed live snakes to camels.
Although, there is no scientific proof that eating a snake can cure an animal's disease.
Perhabs this is some type of hocus pocus probably practiced in rural places in the Middle East.!
Click the link above to watch video if you wish to learn more
TOP 6 Most dangerous Insect bites in the wolrd.
We saw him writhing around in pain on a jungle floor after stinging himself with tarantula hawk wasp, but prepare for an even bigger insect bite…!
In his YouTube video, Coyote Peterson said that the Executioner Wasp sting was, by far, "the worst sting [he's] ever taken."
Click the link above to watch video
Alligator Attacks Handler in Front of Children's Birthday Party
An animal handler who survived a gator attack is speaking out about the harrowing ordeal.
A gator bit down on 31-year-old Lindsay hands during feeding time at a reptile and animal zoo, as children at a birthday party looked on.
Bull jumped into the glass enclosure to get better leverage. Then the gator whipped the trainer underwater in what's known as a "death roll." She now reveals why she jumped in purposely, and how her gymnastics experience may have saved her.
Click the link above to watch video