People with attention disorders have a bold message for Johns Hopkins University (JHU) in a new PETA video: "Talk to me. Stop torturing owls."
The video is accompanied by a letter to JHU President Ronald Daniels and a public statement signed by more than 1,000 people with attention disorders urging the university to stop mutilating and killing barn owls in crude experiments:
Having been diagnosed with attention disorders, we, the undersigned, urge Johns Hopkins University to end the horrific and invasive experiments on owls being conducted in purported attempts to study attention-deficit/hyperactivity disorder in humans. These experiments waste millions of taxpayer dollars while failing to deliver any meaningful advances to human health. Please support our community by championing ethical, human-focused research.
JHU experimenter Shreesh Mysore cuts into the skulls of barn owls, screws metal devices onto their heads, inserts electrodes into their brains, forces them to look at screens for hours a day, and bombards them with noises and lights. In some experiments, he restrains fully conscious owls for up to 12 hours in cramped plastic tubes that prevent them from moving. In the end, he kills them.
According to Mysore, these gruesome experiments are supposed to provide insight into human attention-deficit disorders. In reality, the important physiological differences between owls and humans render these experiments worthless.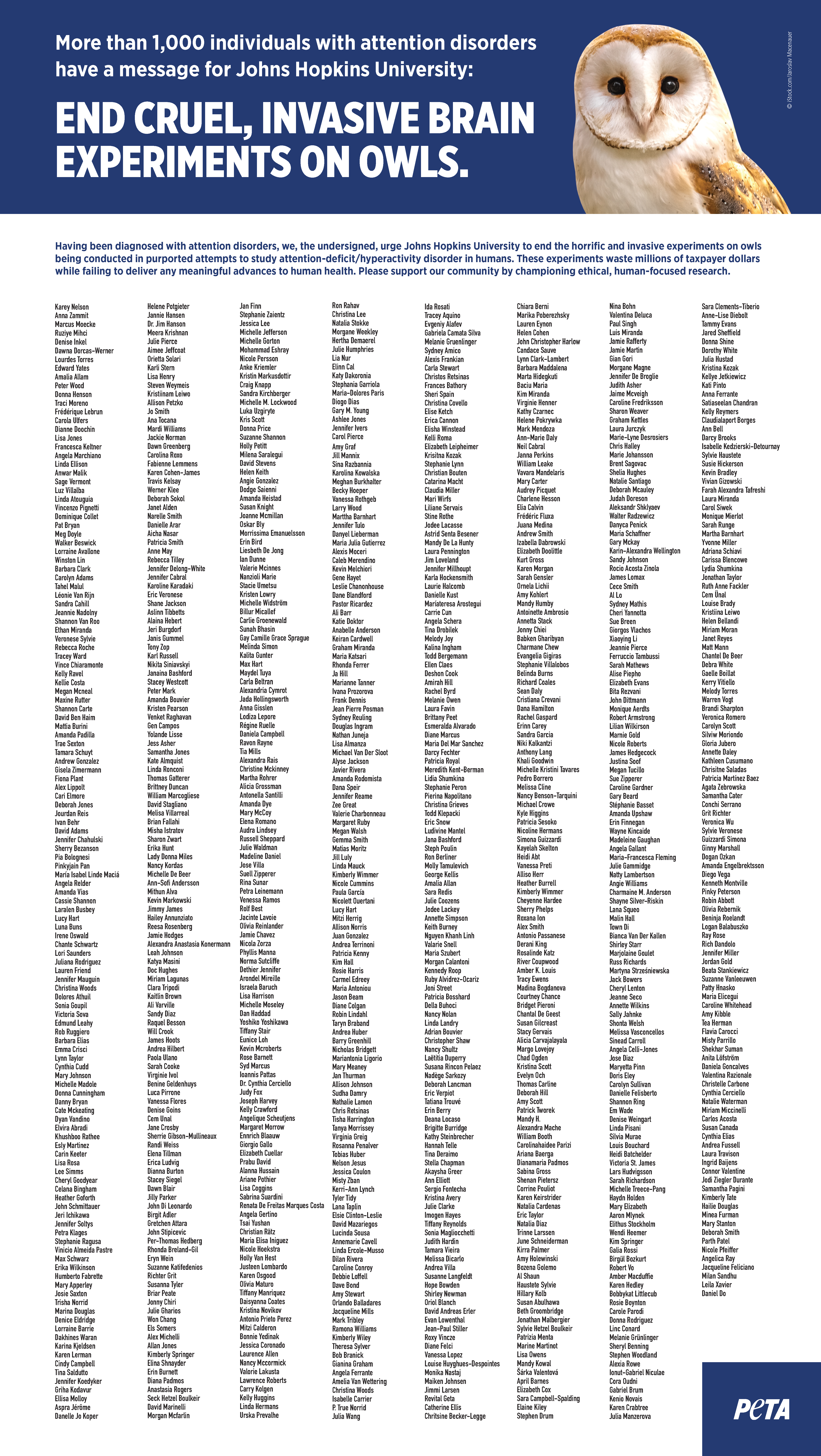 On the flip side, scientists who want to develop treatments to help humans are already finding success through sophisticated neuroimaging techniques and other non-animal methods.
Add Your Voice to Save Animals and Help Humans
Please join us by taking action today to urge JHU to end its cruel experiments on barn owls.