For Immediate Release:
October 23, 2023
Contact:
Tasgola Bruner 202-483-7382
Birmingham, Ala. – Please see the following statement from Katherine Groff, M.S., senior scientist at PETA, concerning just-released photos by the U.S. Department of Agriculture (USDA) showing severe neglect at Southern Biotechnology Associates, which provide more evidence of bleak conditions at an antibody-production facility and a lack of USDA oversight: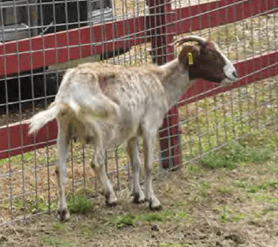 An emaciated goat at Southern Biotechnology Associates on May 24, 2023
A Birmingham, Alabama, antibody production facility received a license from the USDA just one day after the agency cited the company for violations of the federal Animal Welfare Act (AWA). Photos recently released to PETA by the USDA in response to a public records request show animals in urgent need of veterinary attention during the agency's May 24, 2023, inspection. Among other violations, goats were suffering from lameness or unable or reluctant to even walk. One goat was trying to walk on front joints and another on only his front legs. Another lame goat was emaciated, and one had a 2-inch facial swelling. None of the animals had received veterinary care. The USDA stated that all violations must be addressed within two more inspections or the facility would forfeit its license, but it then conducted another investigation the following day and approved relicensing under the AWA—clearly, insufficient time to ensure that the animals had received adequate care.

Not only did the USDA fail in its job to protect severely neglected animals, there are also better methods for obtaining antibodies than by using animals—begging the question of why animals are even used for this purpose. Numerous companies produce animal-free antibodies, and PETA entities have funded the production and use of antibodies that are scientifically superior to and can replace the use of animal-derived antibodies. (See here and here.) It's time that we stop using animals for their antibodies when there are more scientifically sound and humane options.
For more information on PETA's investigative newsgathering and reporting, please visit PETA.org, listen to The PETA Podcast, or follow the group on X (formerly Twitter), Facebook, or Instagram.