For Immediate Release:
October 26, 2023
Contact:
David Perle 202-483-7382
Delaware, Ohio – Graphic video footage just obtained by PETA shows Ohio racing licensee Brevin Lupton participating in abuse involving kicking and whipping a horse who collapsed at an Ohio harness track on October 9. PETA is urging the Ohio State Racing Commission (OSRC) and the United States Trotting Association to revoke Lupton's license and membership, respectively. The group is also asking law enforcement to investigate and, if appropriate, file cruelty-to-animals charges.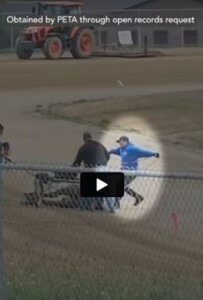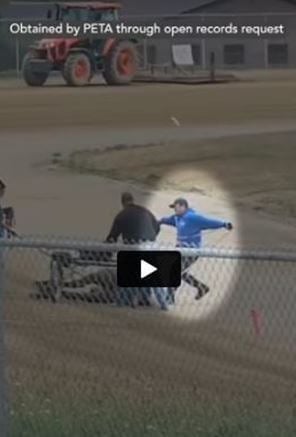 The distressing footage captures the horse rearing and collapsing. A man kicks the horse in the back, and then another whips the animal. The horse briefly manages to rise, only to collapse again and repeatedly struggle to regain footing. The OSRC suspended Lupton for just one year and fined him $1,000 for "engaging in an act of cruelty to a horse."
"Only thugs violently assault a horse, and anyone who does should be banned from racing," says PETA Senior Vice President Kathy Guillermo. "The horse was in deep distress when he was abused like this, and PETA is calling for a criminal investigation."
PETA—whose motto reads, in part, that "animals are not ours to abuse in any way"—opposes speciesism, a human-supremacist worldview. For more information about PETA's investigative newsgathering and reporting, please visit PETA.org, listen to The PETA Podcast, or follow the group on X (formerly Twitter), Facebook, or Instagram.