For Immediate Release:
October 17, 2023
Contact:
Moira Colley 202-483-7382
New York – To mark the one-year anniversary of the announcement of Ryder's death—after the horse collapsed on Ninth Avenue in 2022—Hocus Pocus star Kathy Najimy has teamed up with PETA for an exclusive video calling on viewers to support Ryder's Law, which would ban horse-drawn carriages and replace them with eco-friendly electric vehicles.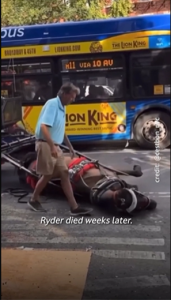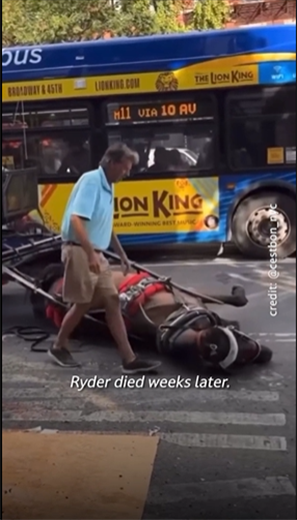 Najimy is one of numerous celebrities who are speaking out against the cruelty of the carriage industry, many of whom sprang into action after seeing the video footage of Ryder after he collapsed. He lay on the ground for over an hour—with no veterinary care—while the driver slapped him, whipped him, and screamed at him to get up. As Najimy points out, the driver faced no penalty, and Ryder's owner paid only a small fine for lying about the horse's age to the city.
"You can't regulate the cruelty out of the horse-drawn carriage trade. A ban is the only way to protect horses like Ryder," says Najimy. "Please join me in urging New York City Council and Speaker Adrienne Adams to pass Ryder's Law to retire the horses and modernize the industry with horseless electric carriages."
Horses in the carriage industry are forced to toil every day in extreme weather and harsh conditions—inhaling exhaust fumes and pounding the hard pavement—leading to respiratory ailments and debilitating injuries. Impatient and careless drivers have also caused multiple incidents in which carriages have been hit, injuring and killing both horses and humans.
PETA—whose motto reads, in part, that "animals are not ours to abuse in any way"—opposes speciesism, a human-supremacist worldview. For more information, listen to The PETA Podcast, or follow the group on X (formerly Twitter), Facebook, or Instagram.