For Immediate Release:
October 26, 2023
Contact:
Sara Groves 202-483-7382
Cedar Creek, Texas – This morning, PETA supporters armed with signs reading, "Jason Buechel: Stop Selling Coconut Milk From Tortured Monkeys," interrupted CEO Jason Buechel's keynote speech at the Conscious Capitalism CEO Summit to challenge the company's sale of Thai coconut milk—including in its own 365 by Whole Foods Market brand—despite receiving ample evidence of cruelty revealed in PETA Asia's investigations showing that Thai monkeys are captured, forced to pick coconuts, trained through fear of punishment, caged in isolation, and chained for life. Photos and video of the disruption are available here.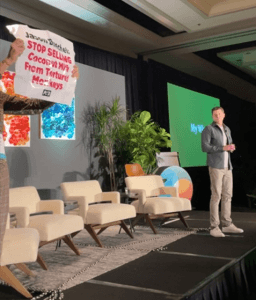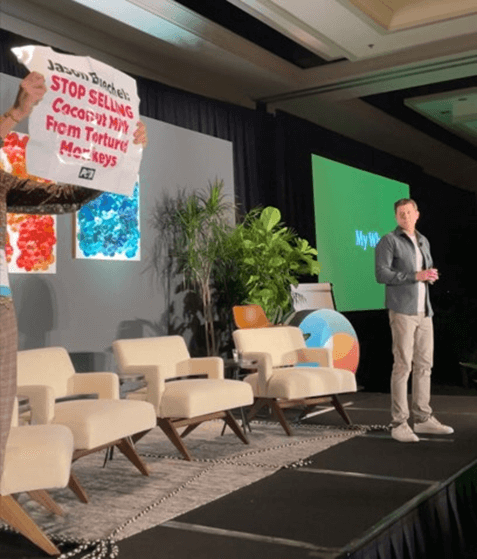 "After three damning investigations, Whole Foods continues to sell Thai coconut milk and ignore the suffering of monkeys who are kidnapped and used as coconut-picking machines," says PETA Executive Vice President Tracy Reiman. "PETA is calling on Whole Foods to stop supporting Thailand's abusive coconut industry and get Thai coconut milk off its shelves immediately."
In Thailand's coconut-picking industry, endangered pig-tailed macaques are often illegally snatched from their forest homes as babies. Handlers put metal collars and leashes on them and may even remove their canine teeth so they can't defend themselves. PETA Asia's investigative footage shows trainers striking them, dangling them by their necks, and whipping them. Because the industry and the Thai government lie about their systemic reliance on forced monkey labor, it's impossible to guarantee that any coconut milk from Thailand is free of it.
PETA—whose motto reads, in part, that "animals are not ours to abuse in any way"—opposes speciesism, a human-supremacist worldview. For more information, please visit PETA.org, listen to The PETA Podcast, or follow the group on X (formerly Twitter), Facebook, or Instagram.