Why Are Whales Afraid of Orca?
Why Are Whales Afraid of Orca?
Orcas are not afraid of anything, they dominate and eat everything in their territory like sharks, fish, whales, etc.
They are also the apex predator in their environment and no other animal prey on them.
Orcas are incredibly fast, flexible, strong, and are the second most intelligent animals in the world after humans
A group of Orca is called pod and so they hunt together as pods and can have a family of up to 40 individuals.
Not all pods hunt whales, far from it, but some do and they are extremely effective.
The orcas in Monterey have figured out how to corral the female whales who roam with their young.
Even though they are significantly larger than orcas, these females have the huge disadvantage of going alone and not being part of a group.
The strategy that the attackers usually follow is to chase the mother and calf until the weaker one gets exhausted and left behind, then they surround and devour it.
Orcas' Feed on Whales Tongue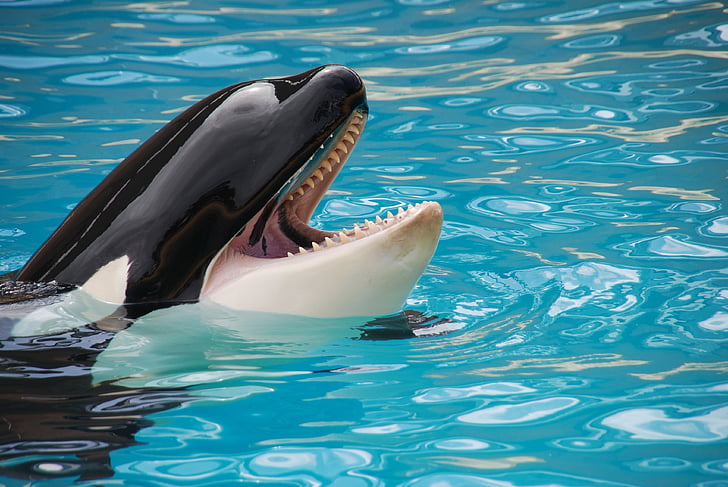 The orcas' obsession with tongues is well documented; on several occasions, it has been the sole or nearly the only thing they eat from their massive prey.
Orca assaults are incredibly effective, so humpback whales have every reason to be afraid of them.
In Monterey, a study discovered 22 similar attacks, 14 of which resulted in the death of the whale calf.
Humpbacks, on the other hand, are highly clever creatures who have figured out a way to defend themselves from orcas.
They have taken steps to defend themselves: Some mothers have decided to defend their young against orca pods.
To accomplish this, they use their strong tail blows as well as the emission of foam clouds in order to chase them off.
Despite traveling solo, some females are closely followed by one or several males that are not known to be related to the female or her calf.
Who can act and protect them in the event of an attack?
When the humpbacks are alone or in a herd, they are capable of pestering the killer whales, which is quite intriguing to note.
By utilizing their whistles, which can be extremely loud and irritating to orcas, they are able to scare them away
The whales show that they can fight orcas hand-to-hand with flipper strikes, foam clouds, and even pushes.
A school of humpback whales in Monterey stopped a herd of killer whales from devouring a humpback whale calf they had killed.
The behavior appears to be aimed at preventing the predator from hunting in humpback territory.
When humpback whales are more in number than killer whales, they can pose a threat and defeat them.
Why Are Whales Afraid of Orca?
Killer whales continue to hunt humpback whales, blue whales, pygmy whales, and a variety of other whale species.
But, as I previously stated, it is not all herds that have learned various tactics to kill them.
It is important to note that orcas are social creatures that live in pods similar to wolves' packs, or lion pride, and they are highly intelligent.
As a result, whales have reasons to dread orcas, and they do. Some even gang up to wrestle them in an attempt to keep them away from their territory.
Even the great and powerful Sperm whales fear orcas, they team up to defend themselves.
Sperm whales use their very powerful echolocation waves, to stun and discourage orcas, in a physical battle.
This Is Why All Whales Are Afraid of Orca
Killer whales(Orcas) are known to torpedo from below at top speeds by ramming the sides of the whales with their heads.
The orcas' obsession with tongues is well documented; on several occasions, it has been the sole or nearly the only thing they eat from their massive preys.
click link above to watch video
Why Do Lions Always Kill Cheetahs?
Cheetahs get their prey easily compared to lions. Due to this competition, lions may feel that they do not have enough food due to the presence of cheetahs. The natural habitat of lions is also native to cheetahs. Since they live in close proximity, lions will attack or kill cheetahs in territorial disputes.
Click the link above to watch video
I killed the QUEEN to save the hive.
Our wild swarm hive is out of control. We have to kill the queen bee…!
In the video above – The Bee-keeeper(Man) kills the Queen bee – Bees got pissed off, Bee-keeper got stung multiple times, but luckily, he survived…!
I love how his wife is just standing there while he's screaming in pain..Lol
It's quite funny actually…!
click the link above to watch video
Here's What Happens If You Feed a Camel With a Venomous Snake
Camels are fed with live snakes. Because there is a special kind of disease in their body. Due to which his whole body becomes stiff. To avoid this disease, Utahars(camel owner) feed live snakes to camels.
Although, there is no scientific proof that eating a snake can cure an animal's disease.
Perhabs this is some type of hocus pocus probably practiced in rural places in the Middle East.!
Click the link above to watch video if you wish to learn more
TOP 6 Most dangerous Insect bites in the wolrd.
We saw him writhing around in pain on a jungle floor after stinging himself with tarantula hawk wasp, but prepare for an even bigger insect bite…!
In his YouTube video, Coyote Peterson said that the Executioner Wasp sting was, by far, "the worst sting [he's] ever taken."
Click the link above to watch video
Alligator Attacks Handler in Front of Children's Birthday Party
An animal handler who survived a gator attack is speaking out about the harrowing ordeal.
A gator bit down on 31-year-old Lindsay hands during feeding time at a reptile and animal zoo, as children at a birthday party looked on.
Bull jumped into the glass enclosure to get better leverage. Then the gator whipped the trainer underwater in what's known as a "death roll." She now reveals why she jumped in purposely, and how her gymnastics experience may have saved her.
Click the link above to watch video