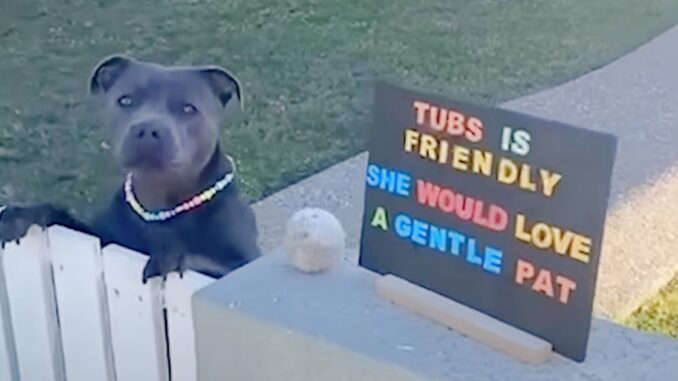 Tubs, a lovable Pit Bull, has become a local celebrity in her neighborhood. She brings people together with her friendly and affectionate nature. Every day, Tubs greets around 10 to 20 people who pass by her home. By 4:00 p.m., she can be found sitting near the front door, counting down to her favorite activity. Tubs' happiness is contagious, and her love for people has made her a beloved figure in her community.
This adorable story began when Tubs was just a 16-week-old puppy. At that time, she was too small to be seen by neighbors walking past her home. However, as she grew, Tubs began to perch on the fence and wait for her neighbors to pass by. Once they noticed her, she would wag her tail excitedly, eager to greet them and make their day a little brighter.
Tubs' mom, Isabella, noticed the positive impact her dog was having on the community and was touched by the beautiful connections being formed. Tubs not only made her neighbors' days better, but she also brought joy to her mom's life. Tubs' bond with her dad, Connor, is particularly strong, with the two sharing a father-daughter-like connection.
Tubs has an incredible ability to read Isabella's emotions, knowing when she is happy or upset. This emotional intelligence has made Tubs an invaluable support for her mom, helping her cope with depression and become more social. In many ways, Tubs has changed Isabella's life for the better.
The community has become a second family for Tubs and Isabella, providing much-needed support and companionship. Tubs' friendly nature has not only brought smiles and sunshine to her neighbors but has also helped her mom form lasting connections with those around her.
In a world where people often feel disconnected from one another, Tubs the Pit Bull serves as a heartwarming reminder of the power of simple acts of kindness and the importance of community. Her love for people and her ability to bring them together has made her a beloved figure in her neighborhood, proving that even the smallest gestures can have a significant impact on the lives of others.
Please 'SHARE' to pass on this story to a friend or family member
Click 'SHARE' below to pass it on to a friend or family member!