Even Boyd Browning, president and CEO of Fasig-Tipton, acknowledged in 2019 that there's too much emphasis on the clock, especially at the distance of 1 furlong: "I personally think times are overemphasized at under-tack shows …. [T]he last time I looked, we didn't run any races at an eighth of a mile. … I don't think [a fast time] means anything dramatic."
Joe Clancy, editor of Mid-Atlantic Thoroughbred, asked, "No Thoroughbred will run a 10- second furlong in a race, everyone agrees on that tenet. Then why do they do it at the sales?" He then stated, "I feel pretty certain that an eighth-of-a-mile breeze is not a proven predictor of long-term success." And consignor Niall Brennan, in the Thoroughbred Daily News, agreed:
"To make them go as fast as they can possibly go on their heads, for a furlong, has got nothing to do with what they're going to be like as racehorses."
These events aren't predictive of the future success of horses, and they put horses in grave danger. Even just the training for the under tack show is detrimental to a horse's long-term racing career—so damaging, in fact, that consigner Mark Roberts said a jockey would get fired for pushing a horse that hard in actual race training:
"What we ask them to do, they'll never do another day in their life. … If a jock worked his horse like that in the morning—in :21 flat for a quarter or :10 flat for an eighth—they'd fire the jock."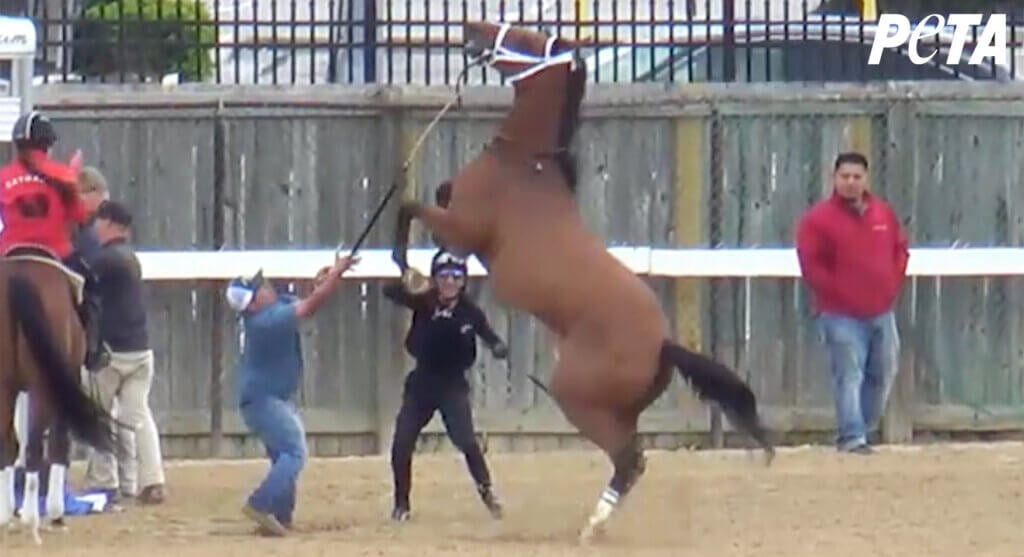 These events are as illogical and risky as sending a middle schooler to an NFL Scouting Combine. So why are they still held?
The answer is that bullet times impress gullible buyers, who salivate at the chance to buy what they think might be a Kentucky Derby contender, and the extreme speeds drive up the prices.
The consignors know that the shows are wrong but profitable. Roberts voiced his exasperation with this situation:
"It's not like consignors wake up every day and say, 'I want to make this horse go as fast as he can today.' … Consignors get heat for doing it, trust me they don't want to. But if they don't do it, agents and owners won't buy the horse."
Consignor Cary Frommer echoed this sentiment: "It's a genie we can't put back in the bottle because it's buyer-driven. … You can blame the consignors, but it's 100 percent buyer-driven. Even the people who say the times are crazy line up on the fast times."
Stakeholders understand that these reckless time trials can be destructive but believe the risk enhances the immediate bottom line. The industry hasn't yet found a way to reconcile safety and profits. "If there's a way out of this room," Clancy wrote in Mid-Atlantic Thoroughbred, "nobody can really find the door just yet."