For Immediate Release:
November 15, 2023
Contact:
Sara Groves 202-483-7382
Miami – A Vegan Voyage Award is setting sail from PETA to the world's largest cruise line, Carnival, to commend the company for introducing menus featuring delicious vegan appetizers, entrées, and desserts that are winning passengers' praise and will be available on all its ships by year's end.
Some standout items include Spaghetti Carbonara infused with vegan bacon (which PETA recommended to the company); a Hawaiian Poke Bowl filled with plant-based salmon, edamame, mango, and cucumber; the Eggplant Cutlet a la Parmigiana smothered in dairy-free cheese and pesto; the Dutch Double Chocolate Pave layered with cake and vegan buttercream frosting; and the Cappuccino Pot de Créme topped with cinnamon crème Chantilly.
"From exquisite entrées to coffee-rich desserts, Carnival's vegan menu makes it easy to get on board with delicious cuisine that spares animals' lives, dramatically reduces diners' carbon footprint, and protects their health," says PETA Executive Vice President Tracy Reiman. "PETA is celebrating Carnival for accommodating conscientious diners and for setting an animal-friendly standard for other cruise lines to follow."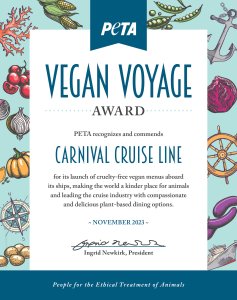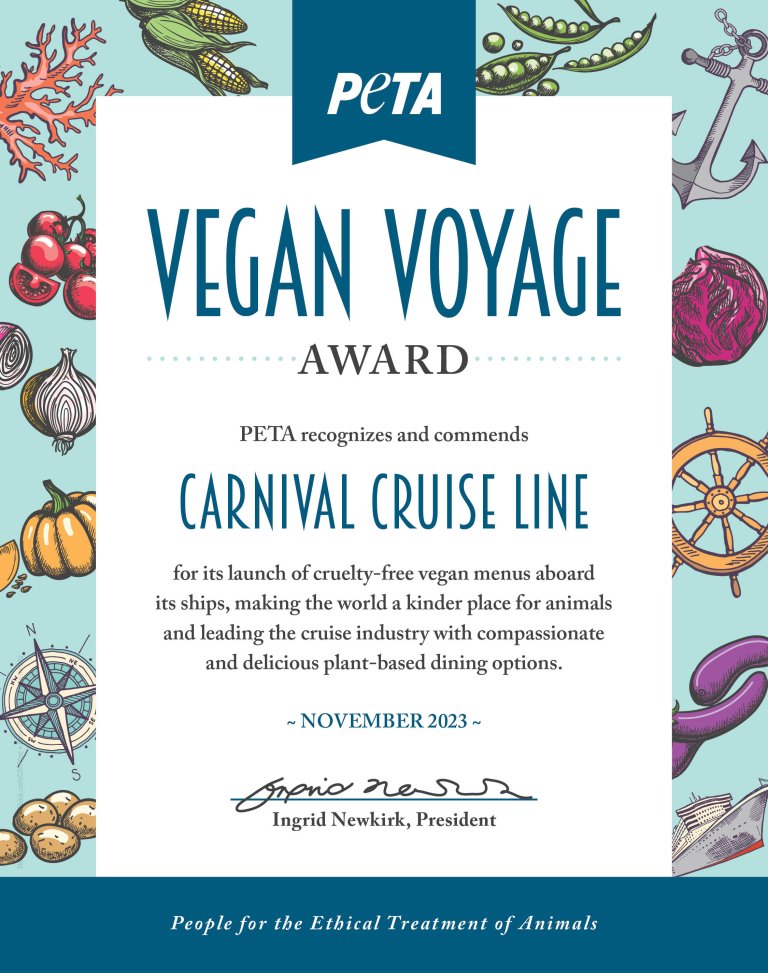 Each person who goes vegan spares nearly 200 animals every year, shrinks their carbon footprint, and reduces their risk of suffering from cancer, heart disease, strokes, diabetes, and obesity. PETA's free vegan starter kit can help those looking to make the switch.
PETA—whose motto reads, in part, that "animals are not ours to eat"—opposes speciesism, a human-supremacist worldview. For more information, please visit PETA.org, listen to The PETA Podcast, or follow the group on X (formerly Twitter), Facebook, or Instagram.