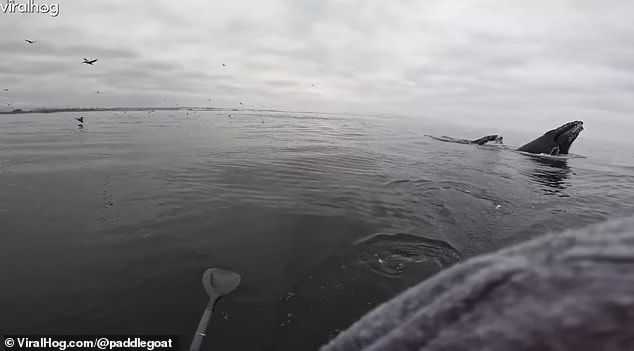 A paddleboarder in California caught a stunning moment on video when two whales breached right beside him.
Bill Clements was paddling out in the Pismo Beach area of the Central Coast of California early on September 16 when he witnessed the incredible creatures surface.
Throughout the morning, he had seen small fish jumping out of the water but no signs of mammals or other wildlife.
But when he got closer to some bird activity, Clements saw dozens of pelicans plunge head-first into the water while other seabirds circled for scraps.
Soon after, there was a disturbance in the water and two humpback whales became visible with their mouths wide open just a few feet away from him.
With his GoPro camera rolling, in the footage viewers can hear the paddleboarder scream in excitement and joy after the whales jump out and back into the water.
Scientists have long reasoned that humpback whales like to breach and slap their fins and flukes on the surface to communicate.
It is believed that all slapping creates sounds to send messages to other whales and the big splashes are for sending messages long-distantly.
Other reasons why whales breach out of the water include claiming territory and removing parasites.
Pismo Beach in California is considered to be an excellent location for whale sightings and other maritime animals. It is also an important site for whales as they show up yearly to feed.
The beach's website says that the best season to watch humpback whales migrating is April through November. Blue whales can be seen migrating south from December through February and north from March through May.
Minke Whales, dolphins and porpoises can be seen all year round at Pismo Beach.
The beach advises people to keep a distance of at least 100 yards from all animals and use binoculars for closer viewing. They also recommend not touching, swimming with, riding, petting, or attempting to interact with any marine mammals.
Scientists suggest slowing down and avoiding any sudden changes in speed or direction near the whales, not circling or crossing their path, and limiting your time observing them.
---
What you can do
Support 'Fighting for Wildlife' by donating as little as $1 – It only takes a minute. Thank you.
---
---
Fighting for Wildlife supports approved wildlife conservation organizations, which spend at least 80 percent of the money they raise on actual fieldwork, rather than administration and fundraising. When making a donation you can designate for which type of initiative it should be used – wildlife, oceans, forests or climate.
---
This article by Ishita Srivastava was first published by The Daily Mail on 18 October 2023. Lead Image: Throughout the morning, he had seen small fish jumping out of the water but no signs of mammals or other wildlife.