For Immediate Release:
October 26, 2023
Contact:
Moira Colley 202-483-7382
New York – A PETA Asia investigation into an Indonesian slaughterhouse that has reportedly supplied lizard skins to Kering—which owns Gucci—shows the animals struggling and thrashing as workers repeatedly hack at their necks with machetes, so PETA fired off a letter to Kering demanding that the company stop misleading consumers by denying any connection to the slaughterhouse or provide solid proof that none exists.
In its letter, PETA notes that a representative of International Leather Works, the Indonesia-based company that procures exotic skins from the farms in the investigation, specifically told PETA Asia's investigator that Kering was one of the buyers of lizard skins from the slaughterhouse, and import documents also show that skins used in Gucci products were obtained from Indonesia.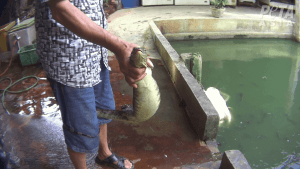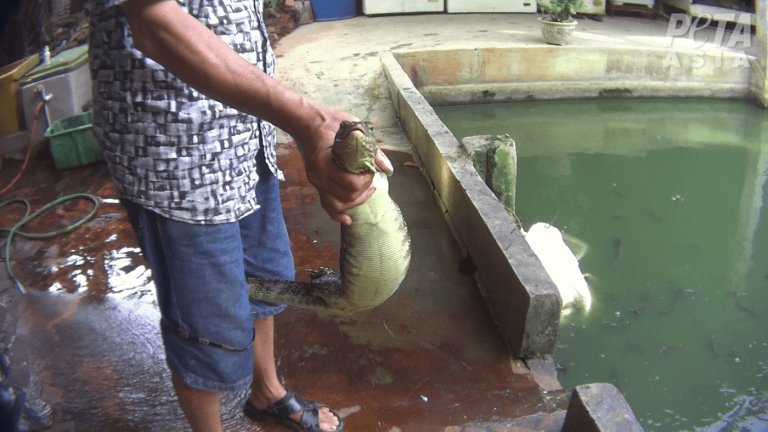 A lizard, with all four legs tied back, is held by the neck at a slaughterhouse. Photo: PETA Asia
"There's certainly evidence connecting Kering to a slaughterhouse where lizards were hacked apart while they thrashed and struggled for their lives," says PETA Executive Vice President Tracy Reiman. "PETA is demanding that Kering stop ignoring these animals' agonizingly painful deaths and end the sale of anything made from lizard skins."
PETA Asia's investigation reveals that slaughterhouse workers tied lizards' legs behind their backs, plunged them into buckets of water, and beheaded them while they were still conscious and struggling. Workers hacked at the lizards' necks up to 14 times before they were decapitated. Because of their unique physiology, lizards don't die instantaneously after being decapitated and their brains can remain conscious and fully able to feel pain for over 30 minutes.
PETA—whose motto reads, in part, that "animals are not ours to wear"—opposes speciesism, a human-supremacist worldview. For more information on PETA's investigative newsgathering and reporting, please visit PETA.org, listen to The PETA Podcast, or follow the group on X (formerly Twitter), Facebook, or Instagram.