For Immediate Release:
November 15, 2023
Contact:
Nicole Perreira 202-483-7382
St. Louis – Ahead of Thanksgiving, PETA supporters will hand out free vegan roasts near the group's new sky-high appeal that urges people to consider the turkeys who are tormented and killed to become holiday centerpieces. The action—along with four more unmissable pleas on local bus shelters along the Ameren's Thanks-for-Giving Parade route—is part of PETA's "ThanksVegan" campaign to encourage everyone to enjoy a vegan holiday.
When:    Friday, November 17, 12 noon
Where:    Along Jefferson Avenue near the I-64 off-ramp, St. Louis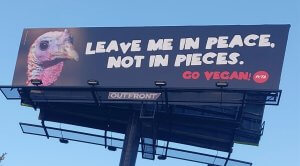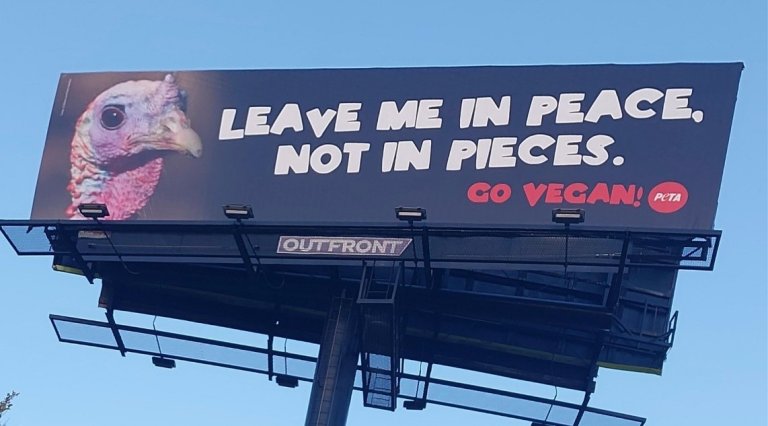 Credit: PETA
"Turkeys are smart, curious individuals who love their families and deserve to live in peace rather than ending up on a fork," says PETA Vice President Tracy Reiman. "PETA stands at the ready with tips, recipes, and more so that everyone can have a delicious 'ThanksVegan' meal that leaves turkeys and all other animals off the menu."
Each year in the U.S., about 46 million turkeys—typically between 14 and 18 weeks old—are killed and sold for Thanksgiving alone. During their short lives, they're forced to stand in their own waste and are bred to grow so large so quickly that their legs give out. At the slaughterhouse, workers hang the young birds upside down, drag them through an electrified bath, slit their throats, and dump them into scalding-hot defeathering tanks—often while they're still conscious. In addition to sparing the lives of nearly 200 animals a year, everyone who goes vegan shrinks their carbon footprint and reduces their risk of suffering from heart disease, diabetes, cancer, and other ailments.
PETA's billboard is located on westbound I-64 along the Exit 38B/Jefferson Avenue off-ramp. The four bus shelter ads are located between the 1500 and 1800 blocks of Market Street.
PETA—whose motto reads, in part, that "animals are not ours to eat" and which opposes speciesism, a human-supremacist worldview—offers a "ThanksVegan" recipe guide. For more information, please visit PETA.org, listen to The PETA Podcast, or follow the group on X (formerly Twitter), Facebook, or Instagram.