For Immediate Release:
November 8, 2023
Contact:
David Perle 202-483-7382
Licking, Mo. – Following a complaint from PETA, the U.S. Department of Agriculture (USDA) has cited local vlogger Aya Katz for violating the federal Animal Welfare Act by exhibiting a chimpanzee, Bow, online and selling merchandise of the pair without a license, according to a newly released inspection report.
Prior to citing Katz, USDA officials spent months trying to contact her, but multiple phone calls, visits to her residence, and a license application kit they mailed to her all went unanswered. Instead, Katz has continued selling merchandise and posting about the chimpanzee on her Instagram and YouTube accounts.
"As though keeping a social chimpanzee in solitary confinement weren't bad enough, Aya Katz is flouting federal regulations and refusing to allow inspectors access to a vulnerable animal," says primatologist and PETA Foundation Director of Captive Animal Welfare Debbie Metzler. "PETA is urging the USDA to throw the book at this wannabe influencer, who continues to exploit Bow for cash and social media clout."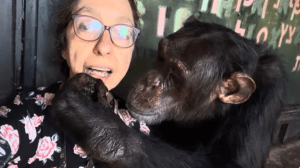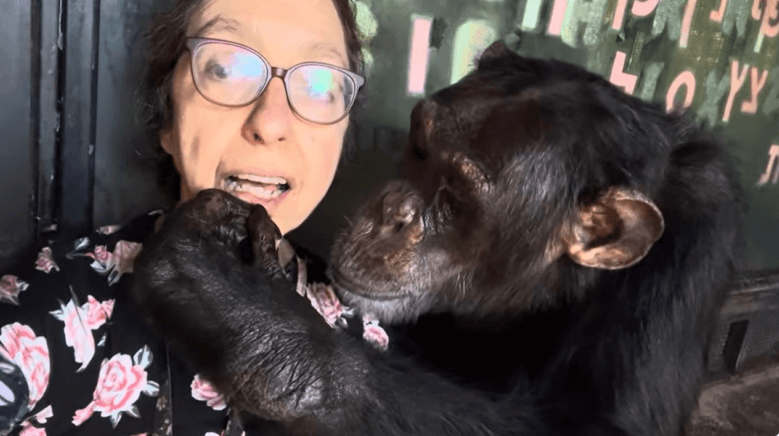 This is a screen capture from a recent YouTube video posted by Aya Katz. According to the USDA, she is posting videos that constitute regulated exhibition under the federal Animal Welfare Act. Without the requisite license, this activity is unlawful.
PETA wrote to Katz in June 2021 urging her to let Bow go to an accredited sanctuary to live a more natural life. Chimpanzees who can't live in nature need to be socialized with other chimpanzees and kept in secure, spacious enclosures to protect them and the community. When chimpanzees kept as "pets" escape and attack, they're typically killed: In 2021, a chimpanzee named Buck was shot dead by a law-enforcement officer after escaping from his enclosure and mauling his owner's daughter. In another well-known example, a chimpanzee named Travis—who had been featured in commercials and TV shows—maimed a woman before he was beaten, stabbed, and then shot dead.
Bow is one of the last few chimpanzees in the country kept in isolation. PETA has facilitated the rescue of 24 chimpanzees—including seven who, having been held in solitary confinement, were given the opportunity to thrive in a true sanctuary environment.