For Immediate Release:
November 16, 2023
Contact:
Sara Groves 202-483-7382
Norfolk, Va. – "What can I make for my vegan nephew on Thanksgiving?" "How can I make side dishes like mashed potatoes and green bean casserole that everyone at the dinner table can enjoy?" "Where can I buy a Tofurky?" With just about everyone guaranteed to have at least one vegan at their holiday table, the days of asking Butterball's archaic hotline how to stuff dressing up a turkey's rear end are over. For modern holiday hosts, PETA is releasing Tommy, a brand-new cutting-edge chatbot through ChatGPT that users can turn to for delicious "ThanksVegan" recipes, shopping guides for ready-to-roast vegan turkeys and hams, substitution tips for vegan cooking, and even family-friendly turkey jokes and interesting facts about these brilliant birds, who are natural detectives with a love for exploring and checking out new sights and smells.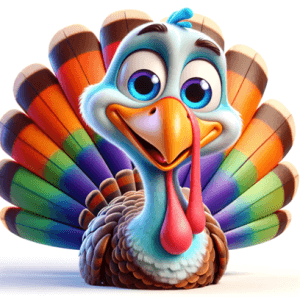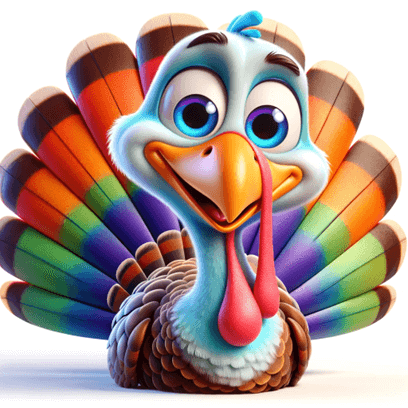 Tommy, PETA's AI turkey chatbot
"Butterball's antiquated hotline is still teaching people to shove stuffing up a dead turkey's behind, while Tommy shares how turkeys are smart, social, and devoted parents," says PETA Executive Vice President Tracy Reiman. "PETA and Tommy encourage people to leave animals off their plates and enjoy a delicious 'ThanksVegan' feast that gives everyone something to be thankful for."
In nature, turkeys spend their days caring for their young, building nests, foraging for food, taking dust baths, and roosting high in trees. Free-roaming turkeys can live up to 10 years, but those raised for food are normally slaughtered when they're between 14 and 18 weeks old. Each year in the U.S., approximately 46 million turkeys are killed for Thanksgiving alone. Workers hang the young birds upside down, drag them through an electrified bath, slit their throats, and dump them into scalding-hot water in defeathering tanks—often while they're still conscious.
In addition to sparing the lives of nearly 200 animals a year, everyone who goes vegan slashes their carbon footprint and reduces their risk of suffering from heart disease, diabetes, cancer, and other ailments.
Users must have a ChatGPT Plus account to access Tommy.
PETA—whose motto reads, in part, that "animals are not ours to eat"—opposes speciesism, a human-supremacist worldview, and offers a "ThanksVegan" holiday guide on its website. For more information, please visit PETA.org, listen to The PETA Podcast, or follow the group on X (formerly Twitter), Facebook, or Instagram.