For Immediate Release:
October 26, 2023
Contact:
Brittney Williams 202-483-7382
Seattle – Starbucks has admitted that cow's milk is a major contributor to the company's carbon footprint, yet it continues to charge up to 90 cents more for the vegan milks it acknowledges are better for the planet. In response, PETA is urging Paul Dickinson, founder and chair of the CDP—an organization that scores companies on their response to the climate catastrophe—to factor Starbucks' vegan milk upcharge into its 2023 climate grade, which is currently under review.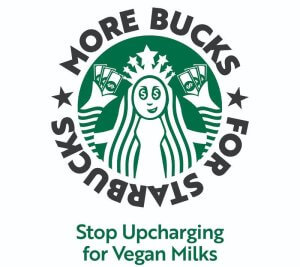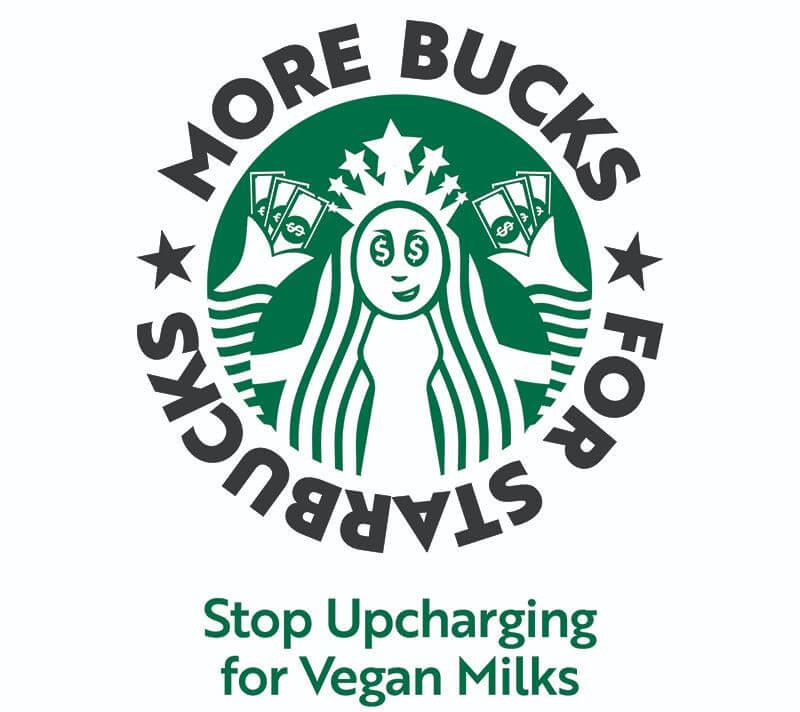 In a letter to Dickinson, PETA points out that the production of cow's milk causes nearly three times more greenhouse gas emissions than that of vegan milk and uses nine times as much land and that according to the president of California Bioenergy, every cow produces methane equivalent to burning 125 gallons of diesel fuel annually. The upcharge also disproportionately affects people of color, the majority of whom have some form of lactose intolerance. Competitors including Caribou Coffee have stopped charging extra for animal-free milks.
"Starbucks' upcharge discourages customers from choosing animal- and planet-friendly vegan milks and proves that the company is more concerned about its bottom line than its role in the climate catastrophe," says PETA Executive Vice President Tracy Reiman. "PETA is calling on the CDP to account for the damage Starbucks does by putting profits before the planet when scoring the company's climate response."
In the dairy industry, calves are torn away from their mothers within a day of birth so the milk meant to nourish them can be stolen and sold to humans. PETA's investigations into dairy facilities have revealed that cows were denied care for painful grapefruit-size masses that ooze blood and pus, struck over and over on their sensitive udders, and abused in other ways. Once their bodies wear out from repeated pregnancies, they're sent to slaughter.
PETA—whose motto reads, in part, that "animals are not ours to eat or abuse in any other way"—opposes speciesism, a human-supremacist worldview, and offers a free vegan starter kit on its website. For more information, please visit PETA.org, listen to The PETA Podcast, or follow the group on X (formerly Twitter), Facebook, or Instagram.
PETA's letter to Dickinson follows.
October 26, 2023
Paul Dickinson
Founder and Chair
CDP
Dear Mr. Dickinson:
I'm writing on behalf of People for the Ethical Treatment of Animals. Since the CDP is currently scoring Starbucks' Climate Change 2023 report, we urge you to factor in the company's unethical practice of charging as much as 90 cents more for vegan milks to be used in beverages, even though it has acknowledged that cow's milk is the main reason why its carbon footprint is so large.
The production of dairy milk causes nearly three times more greenhouse gas emissions than vegan milk and uses nine times as much land, mostly for pasture and to grow the animals' feed. According to the president of California Bioenergy, each cow produces an amount of methane equivalent to what's released by burning 125 gallons of diesel fuel annually. That's a lot of methane, considering that Starbucks purchases tens of millions of gallons of dairy milk every year.
In addition, the dairy industry Starbucks is propping up is responsible for immense cruelty to animals. Cows are confined and forcibly impregnated, and their babies are taken from them soon after they're born, causing trauma to both the babies and the mothers, who are known to wail for days. Cows are considered worthless to the dairy industry when they're no longer able to produce much milk, usually when they're 4 or 5 years old. Then they're sent to slaughter.
If Starbucks were truly concerned about the environment—and animals—it would stop charging extra for vegan milks, as one of its competitors, Caribou Coffee, recently did. Starbucks' decision to impose an upcharge on vegan milks discourages consumers from making humane, environmentally friendly choices. And the vegan upcharge negatively affects individuals who are lactose intolerant. Considering that up to 80% of Black and Latine people, 95% of Asian Americans, and more than 80% of Indigenous Americans are unable to digest cow's milk adequately, it's discriminatory for Starbucks to charge extra for vegan milk.
PETA hopes CDP's grade for Starbucks will reflect the company's contribution to environmental problems, cruelty to animals, and discrimination.
Sincerely,
Tracy Reiman
Executive Vice President