For Immediate Release:
October 16, 2023
Contact:
Kendall Davis 202-483-7382
Amherst, Mass. – In honor of World Menopause Day (October 18), PETA will unveil the group's eye-opening exhibit "Without Consent" at the University of Massachusetts–Amherst (UMass) and local activists will speak about the cruelty and pointlessness of the school's menopause tests on marmoset monkeys.
When:    Wednesday, October 18, 12 noon
Where:    Lawn next to the Student Union, 41 Campus Center Way, Amherst
The speakers, who have experienced menopause and didn't consent to having experiments forced on animals in their name, will describe how experimenter Agnès Lacreuse torments and kills marmosets—even though the tiny monkeys, who naturally live in Central and South America, don't even experience menopause. PETA's installation challenges institutions, including UMass, to rethink this exploitative, expensive, cruel, and archaic concept of science. Watch the trailer here.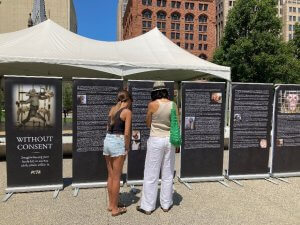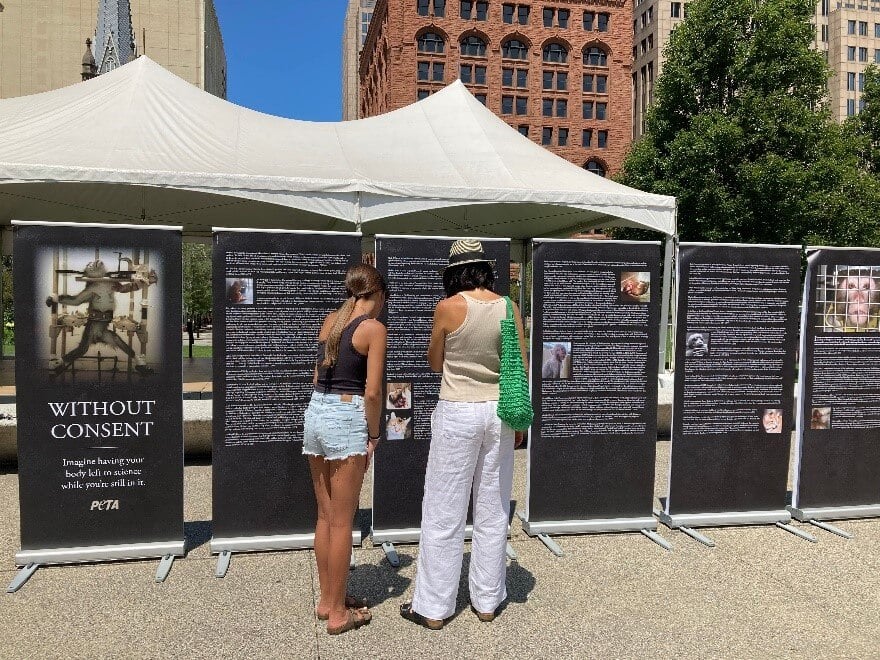 Visitors view PETA's "Without Consent" exhibit. Photo: PETA
Modeled after the Vietnam Veterans Memorial, "Without Consent" will be on display locally for eight days as part of a national tour. It features 28 panels with descriptions and photographs of nearly 200 animal experiments conducted at U.S. institutions from the 1920s through today. As neuroscientist and Jeopardy! host Mayim Bialik describes it, "'Without Consent,' PETA's new traveling exhibit, is a must-see. … Check it out in a city near you and do your part to help create a better future for all!" An interactive virtual exhibit is also available here.
"'Without Consent' tells the true stories of animals harmed and killed in experiments that they did not and could not consent to," says PETA Vice President Dr. Alka Chandna. "PETA is calling on UMass and all other institutions to embrace modern, animal-free research because having the power to exploit other species does not give us the right to do so."
Following its debut in 2021, "Without Consent" has traveled to 25 cities and has shared information about the horrors of experimentation with nearly 15,000 visitors. More than 2,500 visitors have contacted their legislators to oppose animal testing, urging them to endorse PETA's Research Modernization Deal, which offers a strategy for replacing scientifically useless tests on animals with effective human-relevant research methods.
"Without Consent" will be open to the public from 12 noon to 4 p.m., October 18–20 and October 23–27.
PETA—whose motto reads, in part, that "animals are not ours to experiment on"—opposes speciesism, a human-supremacist worldview. For more information on PETA's investigative newsgathering and reporting, please visit PETA.org, listen to The PETA Podcast, or follow the group on X (formerly Twitter), Facebook, or Instagram.