Are you curious what type of recipes vegans make for the holidays? We asked PETA staffers to share some of their favorite holiday recipes, from tofu "turkey" to rich, chocolaty pie. These are dishes that have been tested and shared with family and friends at celebrations over the years, so you know they're going to be delicious and satisfying—and they're animal-friendly, too.
Here are some of the vegan holiday recipes loved by PETA staffers:
Kristin Dunn, senior director of individual giving
"This 1-Hour Vegan Shepherd's Pie from Minimalist Baker has been my Thanksgiving MVP for the past eight years. It's the perfect vegan holiday entrée that everyone can enjoy. It's easy to make, hearty, delicious, and a real crowd-pleaser. Plus, it travels well and the leftovers are delish!"
Amaretto Almond Tarts
Ingrid Newkirk, President
"This is one of my mother's desserts that she learned to veganize after her daughter stopped eating anything stolen from an animal. She was a wonderful cook who made delicious puddings, trifles, blancmanges, rum cakes, jams, and tarts and who always dreamed of opening a tea shop. At the PETA office, whenever a parcel arrived containing almond tarts, there was a mad dash to score one. I miss her and her culinary creations."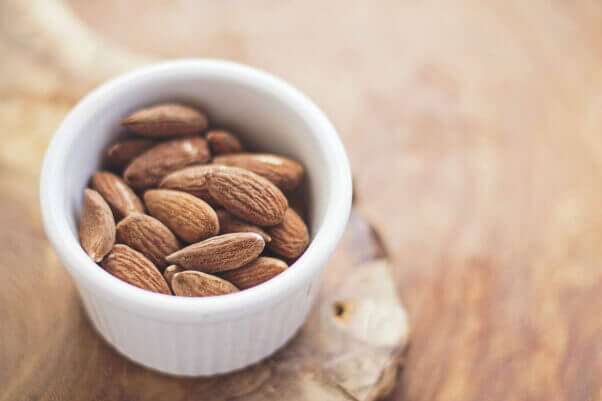 Elizabeth Brion, senior content coordinator
"This chocolate pie topped with peanut butter caramel and candied pecans looks gorgeous and impressive but is surprisingly easy to put together. What does 'Smlove' mean? I have no idea, but you should definitely make this anyway."
Alex Misurella, development coordinator
"When meeting my boyfriend's parents for the first time a few years ago, I chose to be daring by including this soup on my 'ThanksVegan' menu despite never having made it before. Luckily for me, this recipe is as tasty as it is simple to make and was a triumph at our gathering. It has been a beloved staple on my holiday menu ever since."
Sarah McCluskey, senior manager of e-mail marketing
"This is great to eat with chips but also super-tasty on top of Tofurky, toast, or mashed potatoes—it's just packed with flavor! I'll usually pull from this recipe and then add more jalapeños and green onions and a little less sugar than what's called for."
Chelsea Swinford-Johantges, membership communications special project manager
"I'll always remember that the first Thanksgiving I made this roast, a girl I had a crush on came over for Black Friday shopping the next day and ate all my leftovers. I was just a baby vegan at the time, and it was the first time I experienced the bittersweet joy of seeing someone else choose the vegan option at the expense of getting a meal myself. Also pictured below is a squash dish from Oh She Glows, which has been a staple at family Thanksgivings and Christmases since 2012."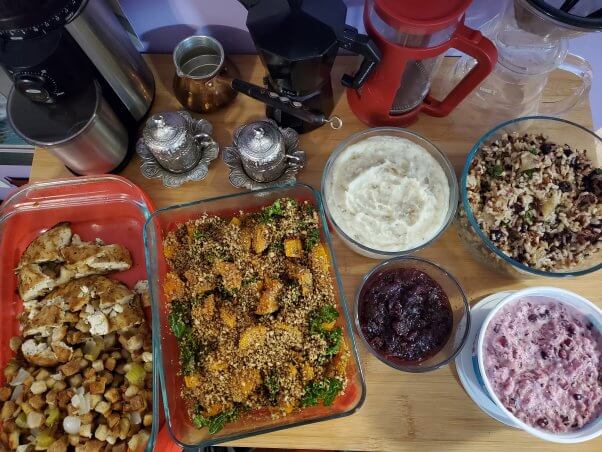 Sasha Moldavsky, editor and videographer
"This has been my go-to 'ThanksVegan' recipe for a few years now. It's a big hit with not only my boyfriend and me (we're both vegan) but also the rest of my family (who are omnivores). This Wellington uses wonderful ingredients and packs a hearty, flavor-filled punch."
Kiara Lynes, assistant Action Team coordinator
"My partner and I make this baked mac and cheese every 'ThanksVegan.' We searched for a while to find a mac and cheese that reminded him of his mom's recipe. It's the highlight of our holiday."
Emily Jones, written communications manager
"This dessert was one of my fave things to eat during the holidays growing up. Of course, that was until I realized what marshmallows were made of—yuck—and who the dairy used for whipped cream was stolen from. I now make this vegan version every year for my family, and it tastes the same but without the cruelty. It has such a unique texture and flavor. Everyone always asks for seconds. It's called Watergate salad, but my fam has always just called it "green fluff."
Maria B. Sanchez, English-Spanish translator, PETA Latino
"I'm from Venezuela, where hallacas are the main vegan holiday dish. They're challenging to prepare since they involve many steps. My grandmother used to make them for everyone and distribute them per family. (She made more than 100.) Since the day I was born, I never liked meat, so she always made vegan ones for me. My grandmother died in 2018, and I decided to try making them here in Houston with a vegan recipe I had found and liked. I don't make as many hallacas as my grandmother did, but my husband, my daughters, and I have made about 25 of them every year since then."
Cecilia Mabilais-Estevez, special projects generalist
"This cashew-free mac and cheese is so delicious and easy to make and has very few ingredients. I made it for my family recently, and everyone loved it. Later on, my sister made it for a block party and it was also a hit."
Clara Bird, associate philanthropic specialist
"I love pecan pie and especially love this recipe because it's relatively healthy for a pie and uses minimal ingredients. Even my partner loves this recipe. (He doesn't typically like desserts, if you can imagine that!) If he loves it, I'm sure just about everyone else will."
Kaitlyn Bodner, senior manager of membership services
"I love the Vegan Pumpkin Mac 'n Cheeze Sauce from Oh She Glows. It's a quick, easy, and crowd-pleasing recipe. There are no nuts or blending involved, and you get to skip the roux because the flour and milk are whisked together before they're added to the pot. If you have a can of pumpkin and nutritional yeast (aka "nooch"), you're already halfway there. I like to add minced garlic and onion and Field Roast Smoked Apple & Sage sausage and top with vegan parmesan and fried sage."
Sam Garner, digital experience design senior manager
"This is my famous vegan sugar cookie recipe with royal icing made with aquafaba (the juice from a can of chickpeas). I've shared it with so many people over the years and have used it to make cookies for every occasion. Every Thanksgiving, I make Krampus cookies, and in 2020, I used this recipe to make 10-year PETAversary cookies for myself."
---
Whatever meals you decide to make during the holiday season, be sure to plan your menu with animals in mind. Turkeys, cows, chickens, pigs, and other animals suffer in order for the meat, egg, and dairy industries to produce broth, butter, and other items that are used during the holidays and beyond. These animals aren't so different from the cats and dogs we lovingly share our homes and lives with. It's speciesist to act as though only certain animals experience pain and fear.
Celebrate peace and compassion this "ThanksVegan," Christmas, Hanukkah, and Kwanzaa by going vegan. Start by ordering your free vegan starter kit today:
Send Me a Free Vegan Starter Kit!