In what could prove to be a watershed moment in PETA's fight against the monkey-experimentation industry, we have some great news to share.
Charles River Laboratories, a top importer of monkeys into the U.S. for laboratory experimentation, reported during its third-quarter earnings call that it estimates it will use a whopping 25% fewer of them globally in 2023 than in 2022. And it's not because there's a monkey shortage.
Charles River CEO James Foster said the dramatic decrease is because "the industry is changing." Translation: The pharmaceutical industry is pivoting to non-animal testing methods.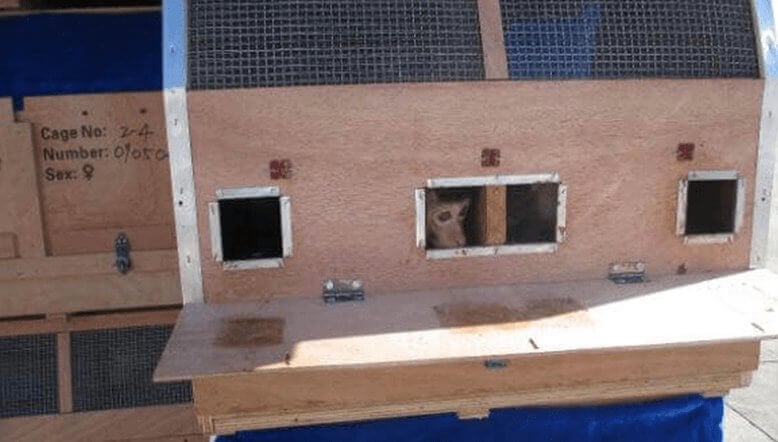 That's about as close to an outright admission as you're going to get from a multibillion-dollar conglomerate steeped in monkey blood that non-animal research methods are the way of the future. And it follows PETA's work to expose the failure of monkey experiments to lead to human cures, the passage of the FDA Modernization Act 2.0, and the development of technologically advanced animal-free research methods.
There's still a lot of work to do. But this striking announcement is a clear indication that the work of supporters like you is having a direct impact on the lives of animals around the world.
It's working. Charles River's announcement is proof.
Much More Yet to Do
Two quick things on PETA's radar:
Given this demonstrable pivot in its business, why did Charles River set up a shell company under another name formed by some of its top officials to purchase land in a secluded area of Texas in order to build a new monkey-importation, quarantine, and breeding facility? Stay tuned for more on this.
We're also still demanding that Charles River release the 1,269 endangered long-tailed macaques it allegedly imported illegally into the U.S., who have languished at the company's facilities in Frederick, Maryland, and Houston for more than a year. These monkeys can never be used for experimentation, and the company's third-quarter revenue of $1.03 billion could easily support their lifetime retirement at reputable sanctuaries.
What You Can Do
Keep up the good work. We can see that your efforts are paying off, so let's keep our foot on the gas by urging the secretary of the interior to send these 1,269 monkeys to reputable sanctuaries: