For Immediate Release:
November 13, 2023
Contact:
Moira Colley 202-483-7382
New York – Hellboy and Sons of Anarchy star Ron Perlman may be a tough guy on screen, but behind his rugged exterior, the acting legend and New York native has a heart the size of Hollywood—and now he's coming to the rescue of New York City's homeless animals by starring in a new sky-high message for PETA along with his beloved dog, Harrington, in which he proclaims, "Don't Buy Dogs." The plea, located just around the corner from the De Witt Clinton Dog Run, follows recent reports that the city's animal shelters are overwhelmed with homeless animals—and many are even refusing to take in animals brought to them.
"Serotonin just courses through me when I'm cuddling with my dogs because it's pure love," Perlman says in an exclusive video for PETA. "The level of gratitude and heartwarmingness that has been infused into my life is irreplaceable. And so, don't buy dogs. There's no reason to. Adopt. Don't shop."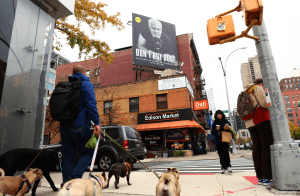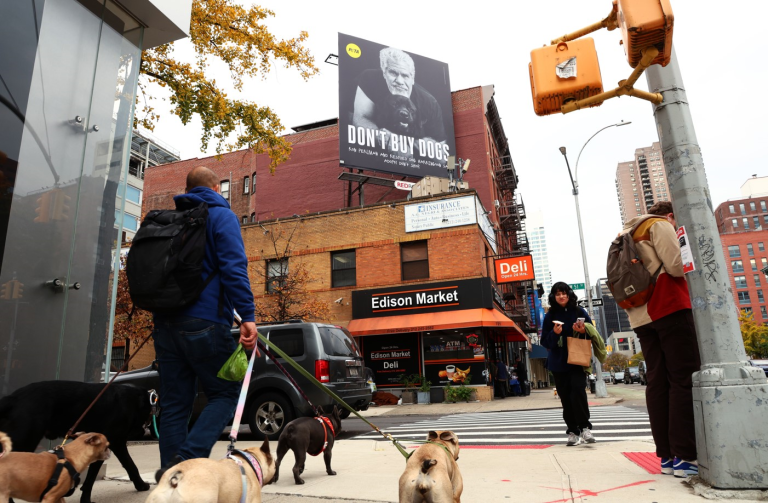 Around 70 million dogs and cats are homeless in the U.S. at any given time. Many animal shelters—under pressure to advertise high "save rates"—are turning dogs away when they inevitably reach capacity, as Animal Care Centers of NYC now are, and refusing to accept cats altogether, leaving the most vulnerable animals with nowhere to go. Many end up abandoned on the streets, where they may be hit by cars, infected with diseases, or hurt by cruel people—and leaving them to reproduce makes the homeless-animal crisis worse. That's why PETA urges shelters to accept all animals in need, advises guardians to have their animal companions spayed or neutered, and asks everyone to adopt instead of buying from breeders or pet stores, which churn out litter after litter of puppies into a world already bursting at the seams with homeless dogs.
Perlman is part of a growing list of celebrities—including Tom Hardy, John Stamos, Ryan Eggold, Theo Rossi, and Cristin Milioti—who have teamed up with PETA to promote adoption.
PETA's billboard is located at the intersection of 11th Avenue and W. 51st Street in Hell's Kitchen.
PETA—whose motto reads, in part, that "animals are not ours to abuse in any way"—opposes speciesism, a human-supremacist worldview. For more information, please visit PETA.org, listen to The PETA Podcast, or follow the group on X (formerly Twitter), Facebook, or Instagram.