For Immediate Release:
October 26, 2023
Contact:
Nicole Perreira 202-483-7382
Mississauga, Ont. – Attendees and passersby at the local Mac and Cheese Festival will get a tasty vegan treat courtesy of PETA on Saturday, when supporters armed with signs that read, "Not Your Mom, Not Your Milk," will hand out free Babybel Plant-Based cheese snacks and remind people that loving milk, cheese, and yogurt—and dishes like mac and cheese—can go hand in hand with being kind to cows.
When:    Saturday, October 28, 12 noon
Where:    Outside the Mac and Cheese Festival, Mississauga Celebration Square, 300 City Centre Dr., Mississauga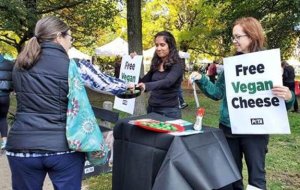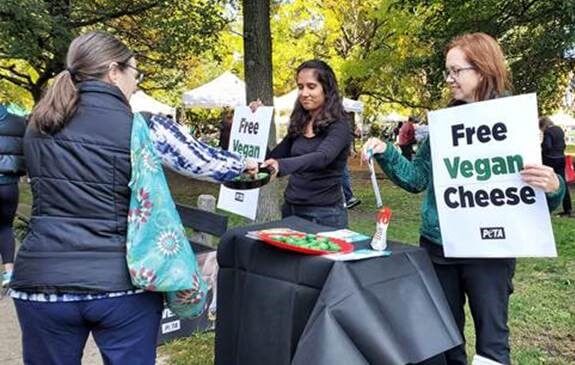 PETA supporters at a previous vegan cheese giveaway. Photo: PETA
"Cows love their calves and produce milk to nourish them, not so humans can munch on mac and cheese made with dairy-derived cheese," says PETA Executive Vice President Tracy Reiman. "PETA urges everyone to leave cows in peace by loading their macaroni with the many delicious plant-based milks and cheeses available."
In the dairy industry, calves are torn away from their mothers within a day of birth so that the milk meant for them can be stolen and sold to humans. PETA's investigations into dairy facilities have found workers electroshocking cows in the face, hitting them with poles and a cane, and abusing them in other ways. Once their bodies wear out from repeated pregnancies, they're sent to slaughter.
PETA—whose motto reads, in part, that "animals are not ours to eat or abuse in any other way" and which opposes speciesism, a human-supremacist worldview—offers free vegan starter kits to help anyone make the switch.
For more information, please visit PETA.org, listen to The PETA Podcast, or follow the group on X (formerly Twitter), Facebook, or Instagram.