For Immediate Release:
November 13, 2023
Contact:
Nicole Perreira 202-483-7382
Cancún, Mexico – A new PETA video shows the remarkable transformation of two dogs—later named Kal and Abigail—who were rescued from extreme neglect one year ago. PETA fieldworkers and Paws in Action Cancún rescuer Karin Jacobsmeier checked on the dogs after receiving a complaint from a local resident—and were shocked by what they found. The dogs were emaciated, chained to trees with no shelter and only rocks and dirt to lie on, and unable to even touch each other. Abigail's chain was only about 2 feet long, and she had lost nearly all her hair due to mange. With the help of local law enforcement and animal control, PETA was able to get the dogs removed from the residence and placed into foster care with Jacobsmeier.
As the video reveals, Kal and Abigail now look like entirely different dogs. After a months-long recovery, they've gained weight, their hair has grown back, and they've slowly learned to trust humans again. In their foster home, they enjoy soft beds, long walks that enable them to sniff and explore, plenty of good food, and the love and affection all dogs deserve.
"They've been with me for a year, and they are amazing and doing great," says Jacobsmeier.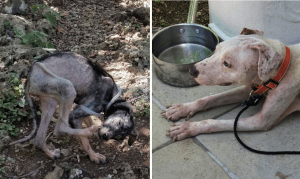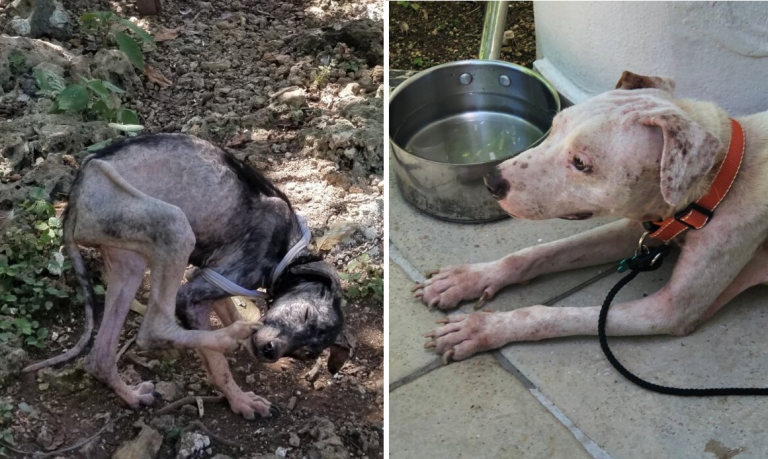 Abigail and Kal prior to their rescue. Credit: PETA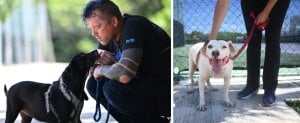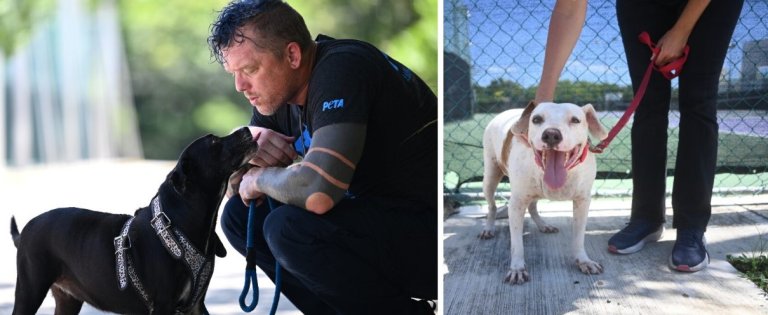 Abigail and Kal today. Credit: PETA
"PETA fieldworkers rescued Kal and Abigail in the nick of time, but countless other dogs like them are suffering out of sight, chained up and denied adequate shelter, veterinary care, and social interaction," says PETA Senior Vice President of Cruelty Investigations Daphna Nachminovitch. "PETA urges everyone to keep their dogs indoors with the rest of the family and to always speak up when they see an animal in need."
This year, PETA sponsored four spay/neuter clinics in the vicinity of Cancún, providing free sterilizations for more than 1,000 animals in underserved neighborhoods. Fieldworkers from the organization also deliver doghouses, dog food, and flea prevention; deworm dogs; and fit dogs with collars in these neighborhoods—all free of charge.
To help every dog's story end as happily as Kal's and Abigail's, PETA urges everyone to alert law-enforcement agencies to any dog kept chained or penned outside 24/7 without adequate shelter and to push for dog-chaining bans in their communities. PETA also builds and delivers sturdy doghouses to dogs in need, free of charge.
PETA—whose motto reads, in part, that "animals are not ours to abuse in any way"—opposes speciesism, a human-supremacist worldview. For more information, please visit PETA.org, listen to The PETA Podcast, or follow the group on X (formerly Twitter), Facebook, or Instagram.